Bullet points are the most common way of formatting text in PowerPoint. However, such a kind of text structure is quite boring for eyesight.
I'd like to show you how easily you can turn a typical bullet point slide into an interesting diagram. We're going to use a slide representing types of gap analysis.
Slide with types of gap analysis before the redesign
Our source slide contains listed text with raw bullet points. It's hard to find a clear structure on it.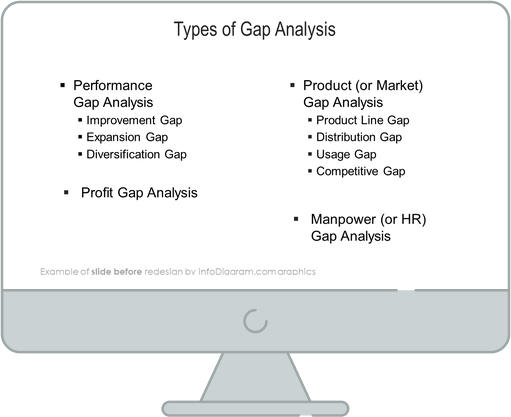 Let's see how you can change it into a fresh and clear graphic, following just a few steps.
Slide after the redesign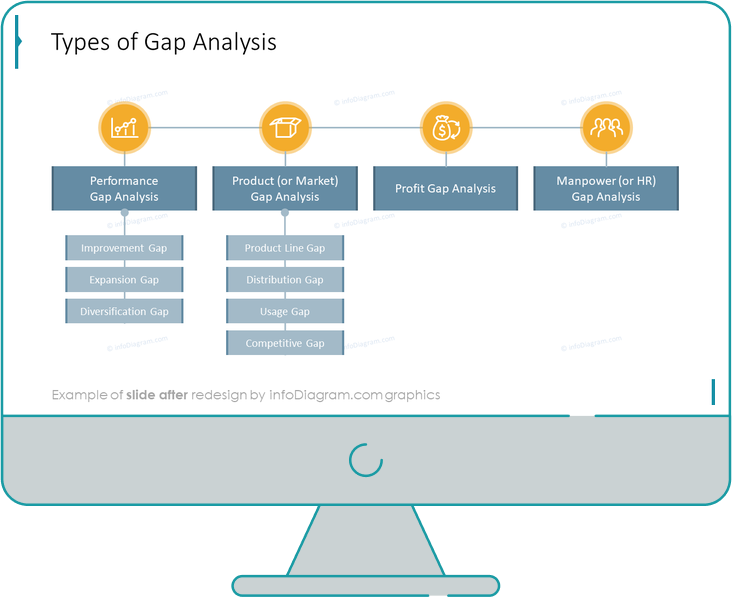 Let's go step by step through the process of this slide transformation. When we compare both slides, you can see that redesigned slide is eye-catching.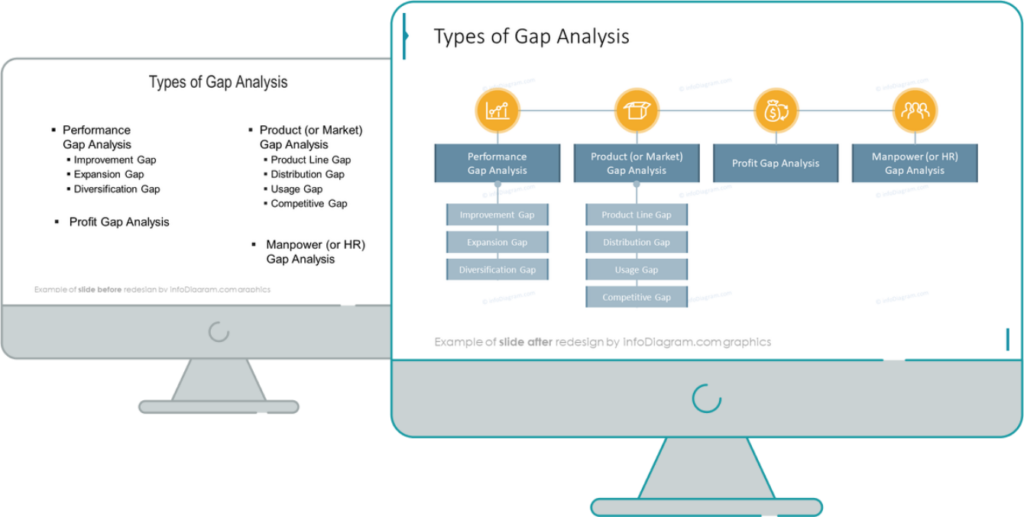 Step 1: Restructure the layout of bullet points
Arrange bullet points into column layout. Your content is easy to catch if the text is written from the left to the right direction.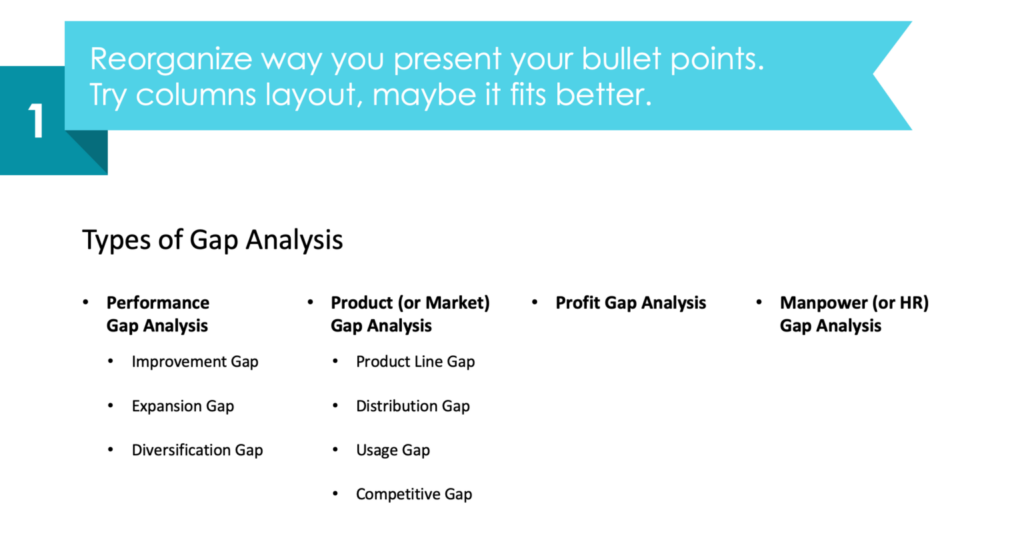 Step 2: Replace bullet points with simple shapes
For a given slide structure a rectangle probably works the best, but PowerPoint has a wide choice of shapes. For the main point use a bigger shape and for subpoints put a smaller one.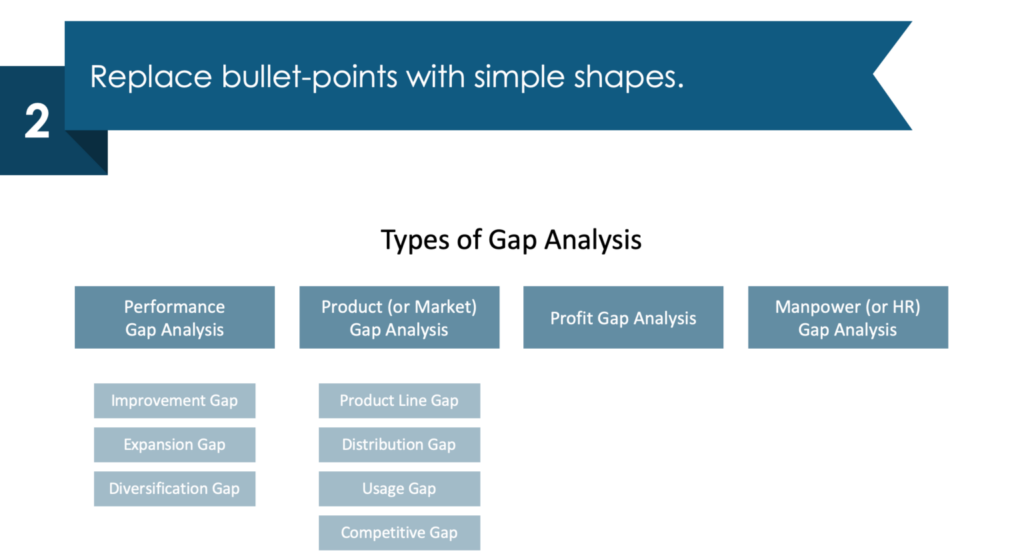 Step 3: Mark a structure by adding connecting lines
A clear structure is the most important thing during the process of creating diagrams. For the diagram with gap analysis types, we marked the structure by connecting each point and subpoints with a thin line.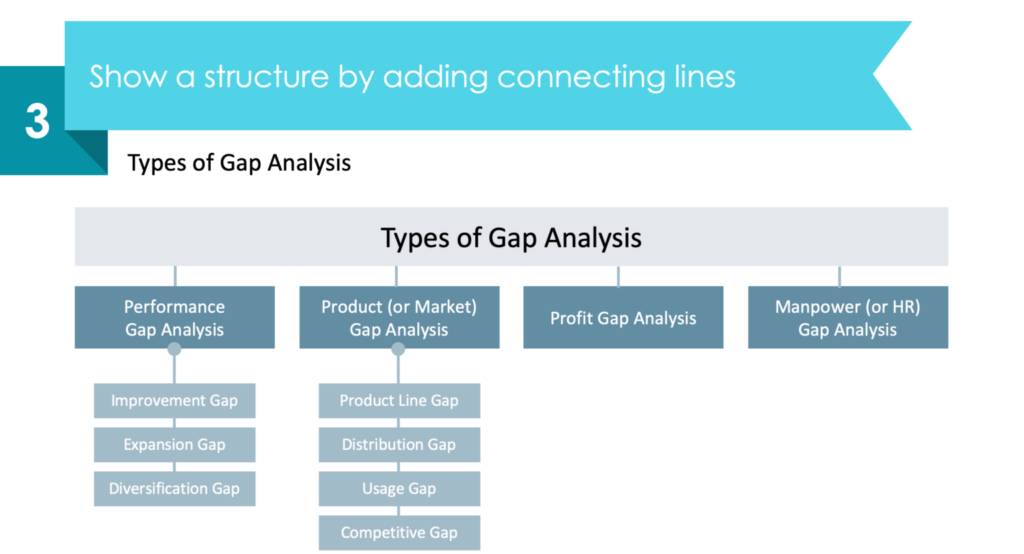 Step 4: Enhance your diagram with icons
Take a while and think about symbols that can represent your content. Choosing proper icons increases your diagram's appeal.
Check the slide below what icons represent each type of gap analysis.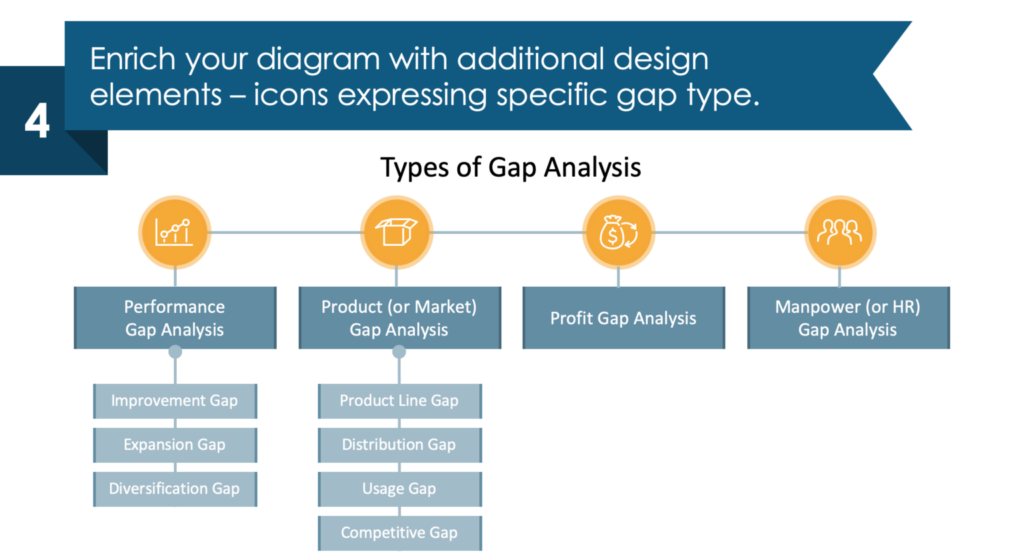 Not that hard, isn't it? Only four steps are needed to create an attractive diagram with a clear structure. For more redesign ideas check our series of posts How to redesign a specific slide content.
Here is a YouTube movie illustrating more parts of Gap Analysis Types in PowerPoint.
Sources
The slide makeover graphics we described here is based on the Gap Analysis Types and Tools Presentation infodiagram collection. Check there more slide graphics on this topic.
In addition, check this blog post How to Present Gap Analysis Types Clearly in PowerPoint out.
Related Posts
You may also like other posts.