Do you present the launch stages of your project? The easiest way to present stages is to use a number or bullet list. But it's a common and boring solution. Let's try to avoid using a typical PowerPoint list and instead of it let's make a creative slide. In today's case study, we're going to use people icons as visual metaphors.
So let's see how we can transform a static list into an illustrative and dynamic diagram.
The Project Launch Stages Slide Before the Redesign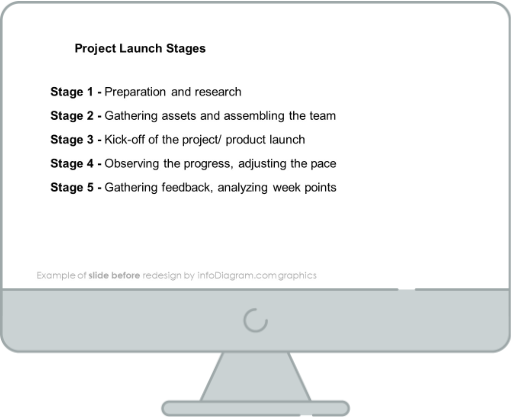 It's a typical, static list on a white background. I'm sure you are faced with such slides often but can you remember the content of any of those slides? Probably barely…and that's why because there is nothing interesting to remember. But it doesn't mean that the content is boring. It's a lack of creativity, of something that could pay attention.
So let's see the effect after the creative redesign.
The Project Launch Stages Slide After the Redesign
The slide after the redesign doesn't look like a list. It's more dynamic due to presenting the content horizontally. Icons of the people's movements associate with the whole process from the point of the beginning through the fast run till the end. It's a multiple stages process but still easy to understand and remember.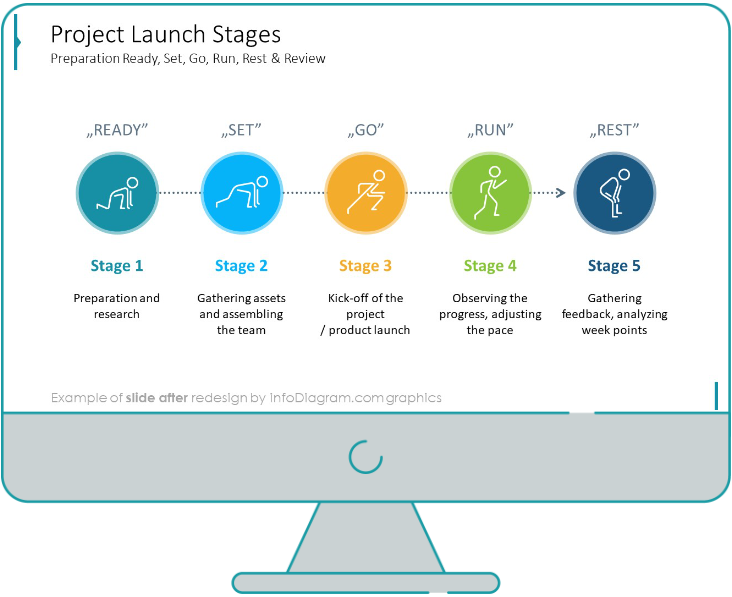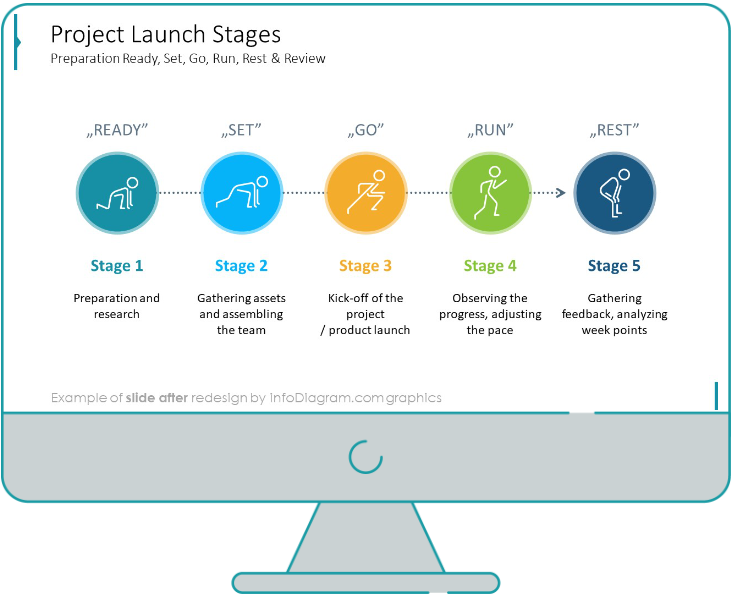 When comparing these two slides it comes obvious that color touch and icons presentation for each stage is the game's changer.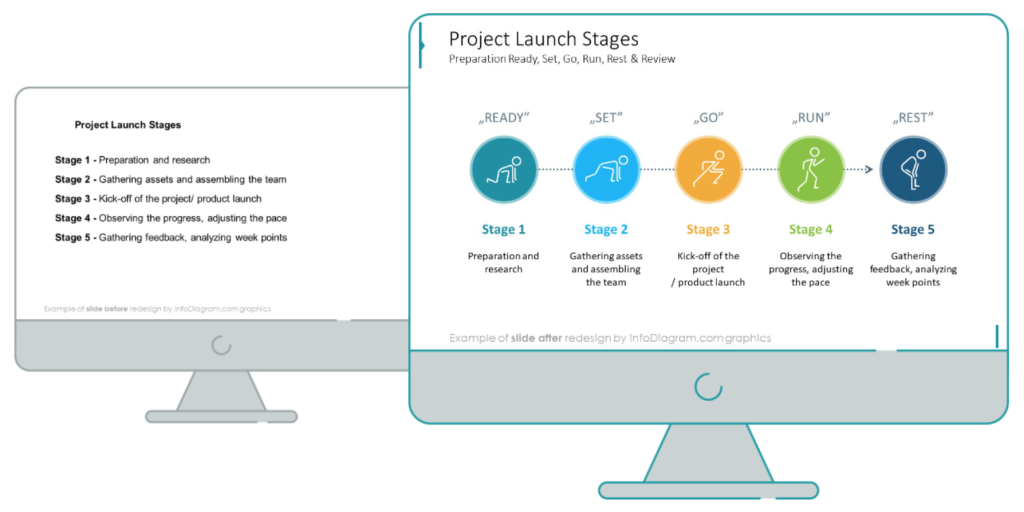 The transformation of a static list into a dynamic diagram requires as little as three steps. Let's check it.
Step 0. Analyze the slide content
Firstly look at the information that is on the slide. Is it a list? A structure? A comparison? A process? In this case, we clearly have a sequence of steps – that means a process. Such information can be visualized by a flowchart diagram or some kind of roadmap or journey graphics. Let's go for a simple timeline-like diagram. I am going to present detailed design instruction below.
Considering the amount of content – there is not much text on the source slide. It gives us a few good options:
We have a lot of space for placing graphic elements.
We can present content horizontally which is more adequate for process visualizations.
Enough space for light and margins. It's very important to not make the slide overwhelming and littered, it would be very hard for the eyesight to read.
Before you start to redesign your content find the idea for representing icons first. Prepare a proper icon for each stage, it will make your further work more straightforward. I chose the people activities icons but you can prepare your own. Just remember that all of the icons used for the process should have something in common like style or theme.
Step 1. Distribute your content in columns instead of a vertical list
Let's see how we can make a timeline diagram from scratch using PowerPoint tools.
Instead of making a vertical list, write your content in columns. That way you can make more space to add icons and other visuals.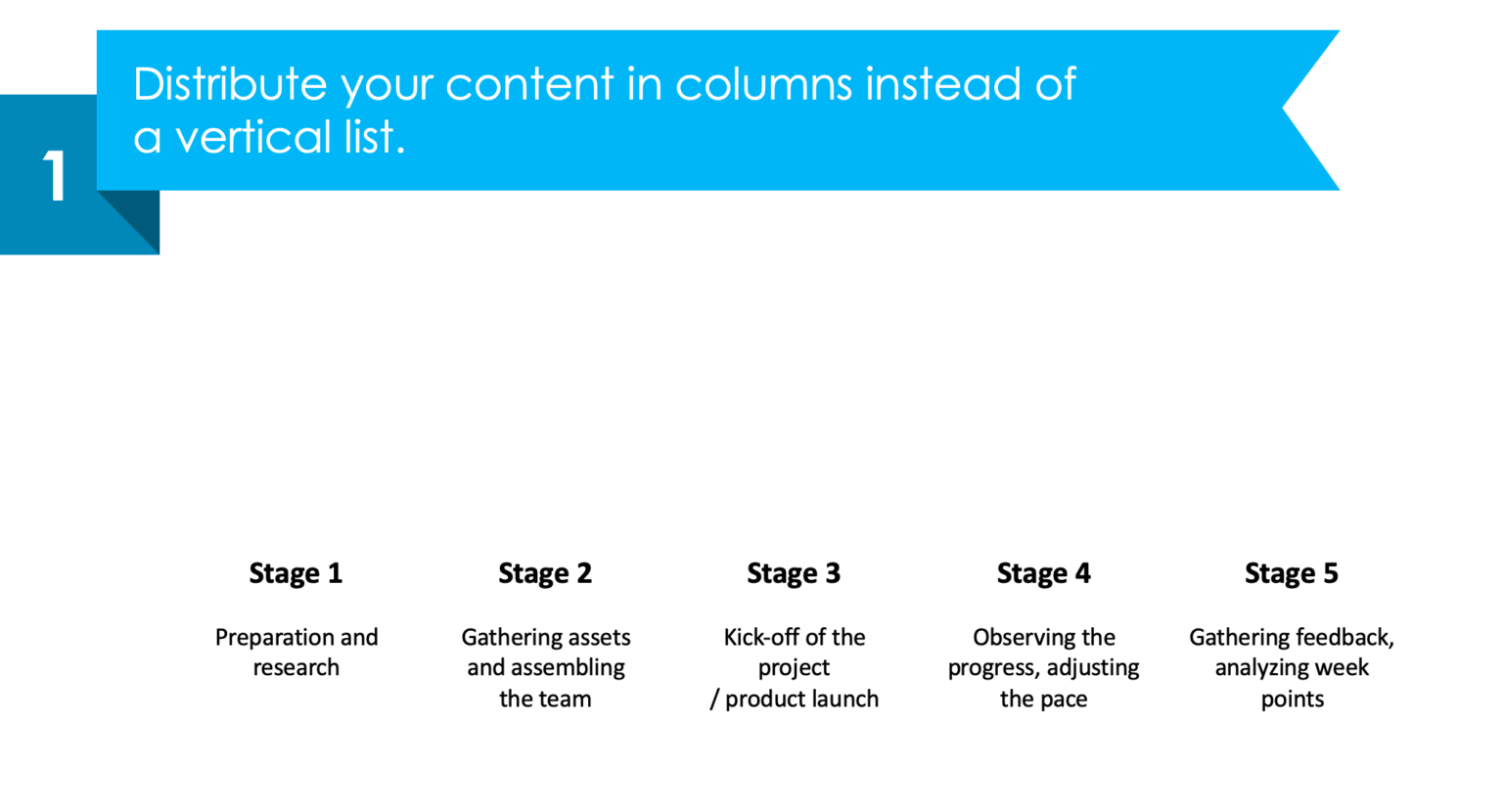 Step 2. Add icons and names of the stages
Add circles shapes and in each place the proper icon, and name the stages. We have named them ready, set, go, run, and rest as a visualization of the running process. Explain under each phase what are your planned steps.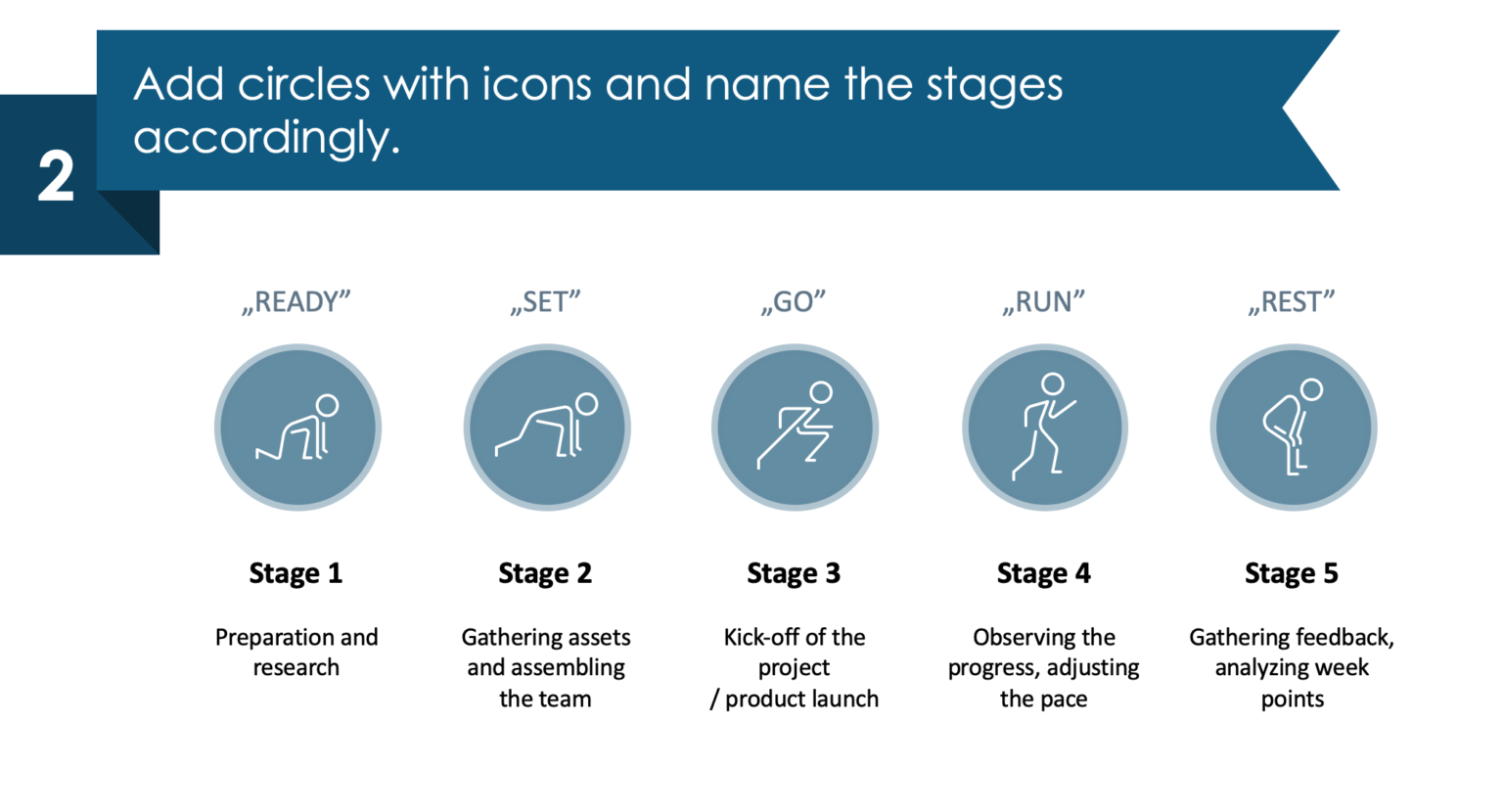 Step 3. Make your slide color and element richer
To make your slide even more appealing, diversify each stage with different colors, and connect all the stages from 1 to 5 with a line vector, just as we did.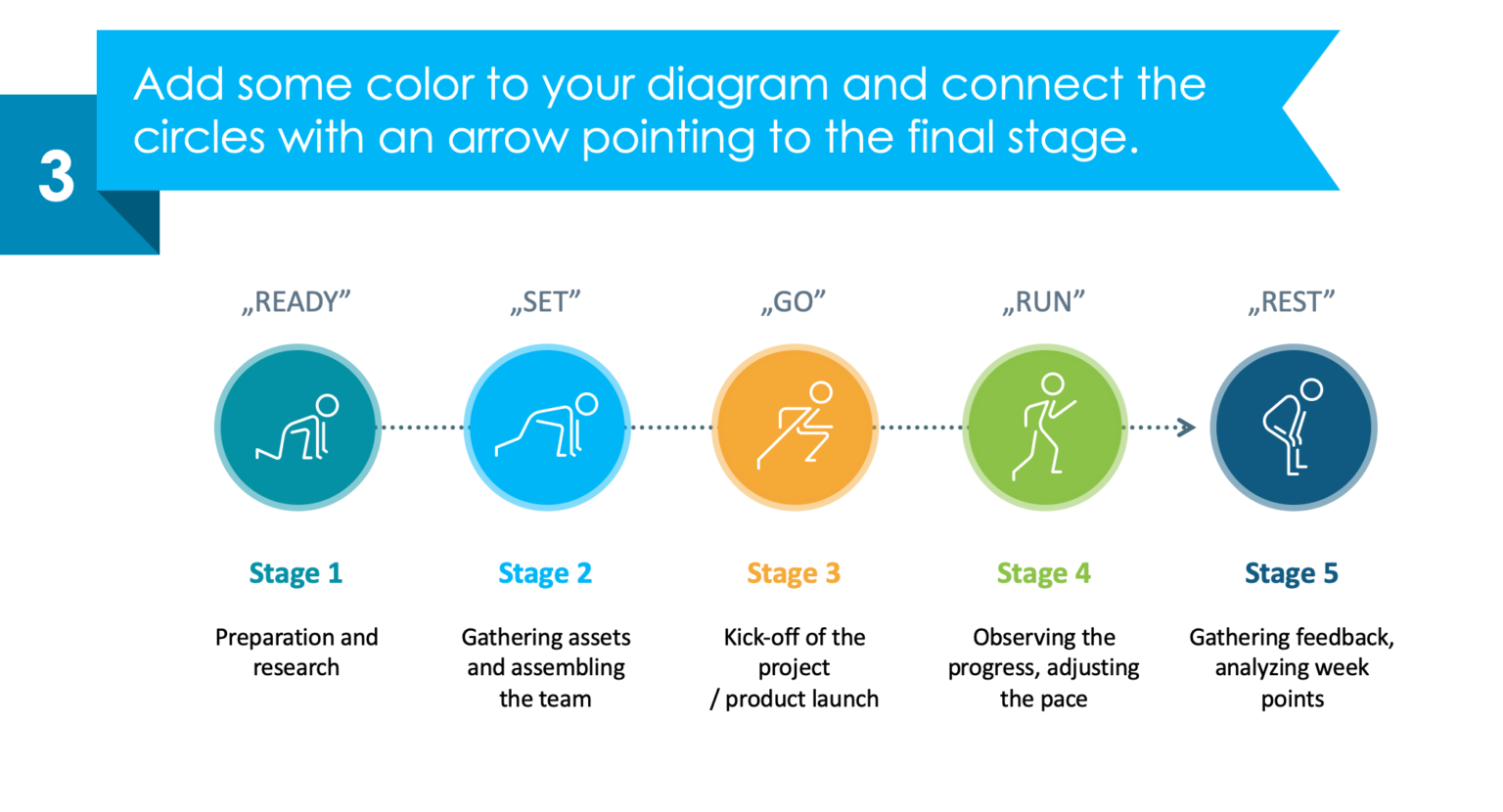 That wasn't difficult now, was it? A few simple steps can make a greater impact on your presentation. A well-looking slide containing graphic visualization will impress your audience and leave a good impression.
Here's a YouTube tutorial too, if you prefer video guides.
Check out this collection of free samples and start learning to create astonishing presentations by yourself!
Sources
The slide redesign tips we used in this blog are inspired by the infoDiagram's People Activities and Body Poses Stick Figures (outline PPT icons) collection. Check there for more slides.
In this blog, you can also find more redesign ideas with different people activities figures for different topics.
Recent Posts