Do you need to present a list on a slide? In this blog, I will show you how to do it effectively and creatively without using typical for lists numbers or bullet points. I'm going to use an example of the presentation of talent management components. Even if you may not be working with human resources, this slide transformation can give you an idea of how to change any other slide that has a list of items.
It's a no-brainer that every presentation should look appealing, simple, and element-rich, but most importantly, send a loud and clear message to the audience in a limited time.
We have turned a traditional-looking slide into an interesting infographic illustration.
The whole slide makeover required only four steps.
Talent Management Components Slide Before the Redesign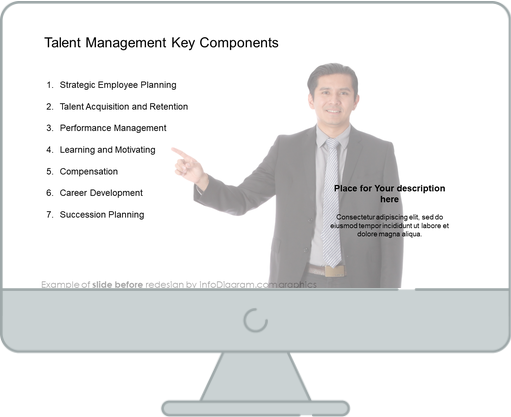 The displayed source slide looks very unengaging and bland. There aren't any catchy elements that could trigger the interest of the audience. Also, the simple enumeration on a white background isn't leaving the desired impression.
Let's see now what the improved version looks like.