A complete guide on how to redesign product return methods list
Let me show you how to change a slide with a list of categories into an interesting infographic slide.
The source slide regarding the return methods category shows a comparison of before and after redesigning, in which the before one is an example of a raw bullet-point slide that lists online purchase product return options, and the final diagram version at the face lifted slide that looks much more appealing and easier to understand: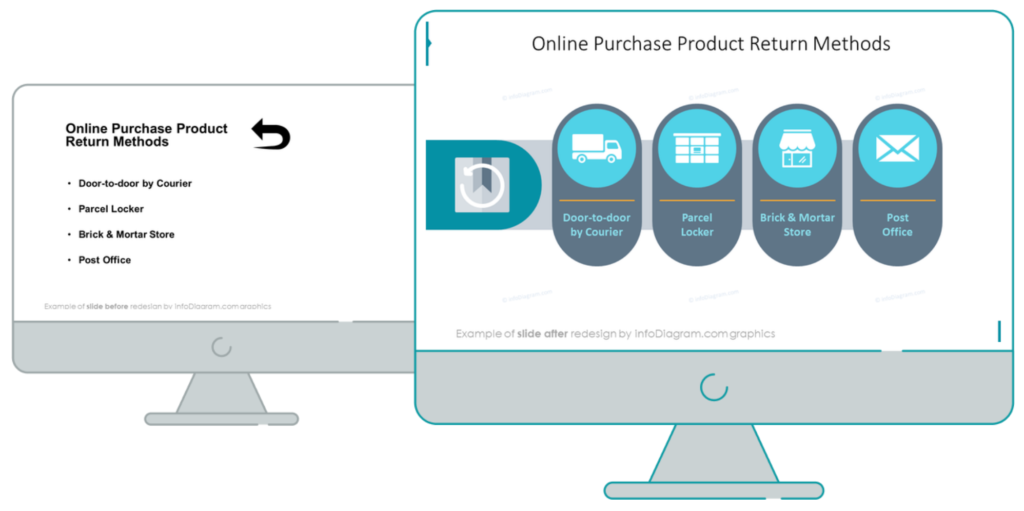 See how you can turn this default list into a more appealing diagram in just a few steps.
Step 1. Replace the text bullet points with a neat diagram
Replace the text block with a more interesting visual form. Simple PowerPoint shapes will do, for example, the rounded rectangles. Add the same amount of those shapes for every point on your bullet list, and try column layout.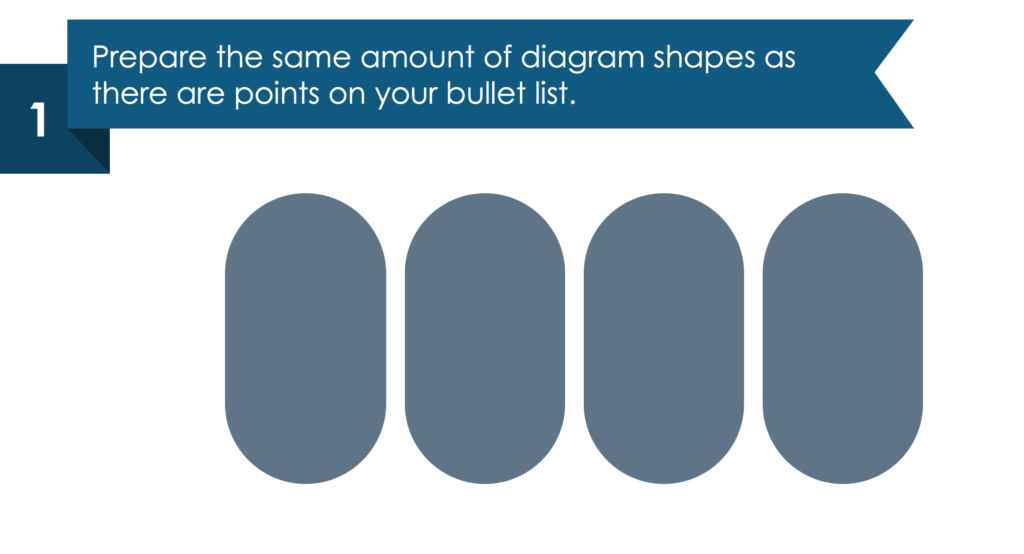 Step 2. Paste your copy to the diagram shapes
Remember to keep the color contrast between the texts and shapes.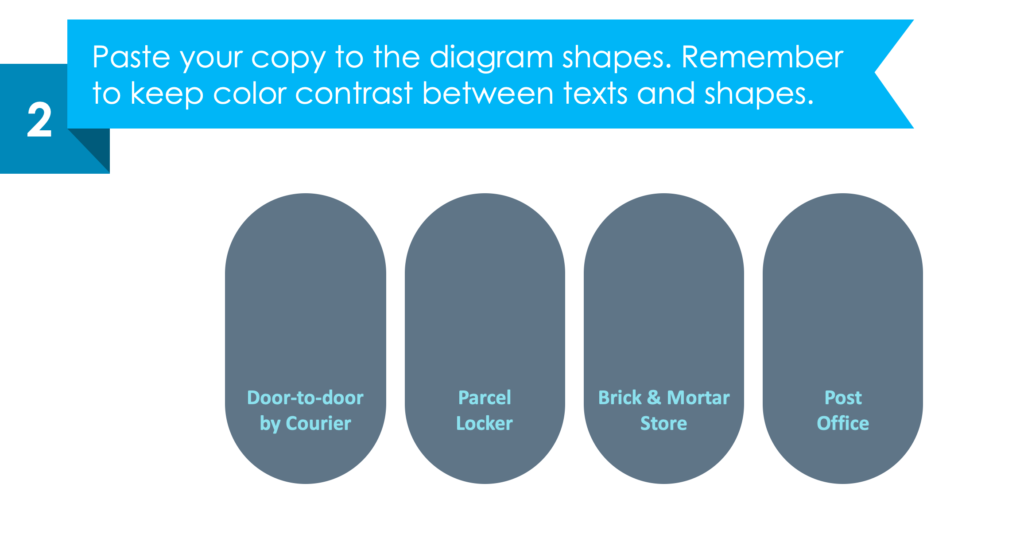 Step 3. Add connecting design elements

Create one integrated infographic by connecting the diagram elements with a background shape.
We have added yellow line shapes to separate the copy from the place for additional graphics.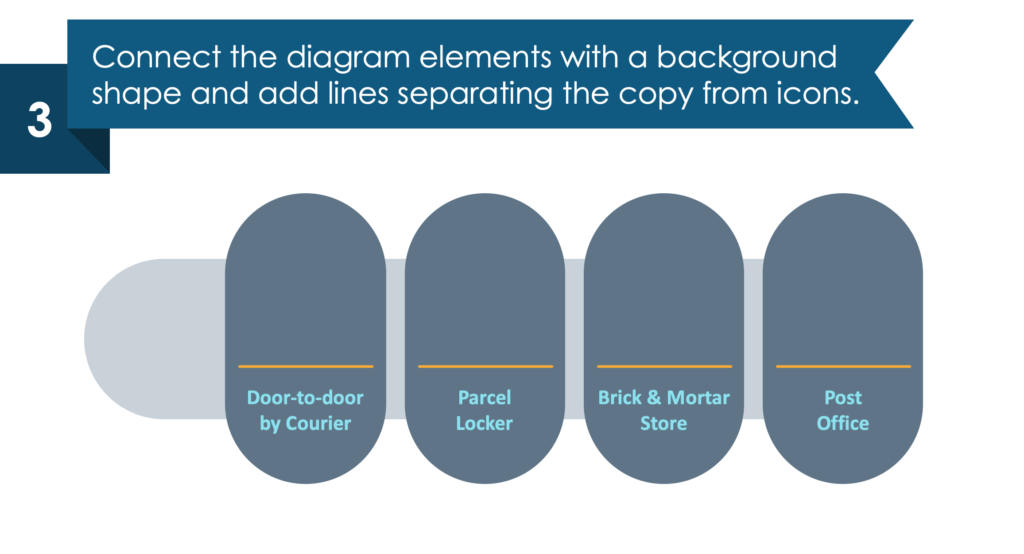 Step 4. Enrich final diagram with icons
Add icons to symbolize each point and the returning process. For more sophisticated look you can embed icons inside circle shapes.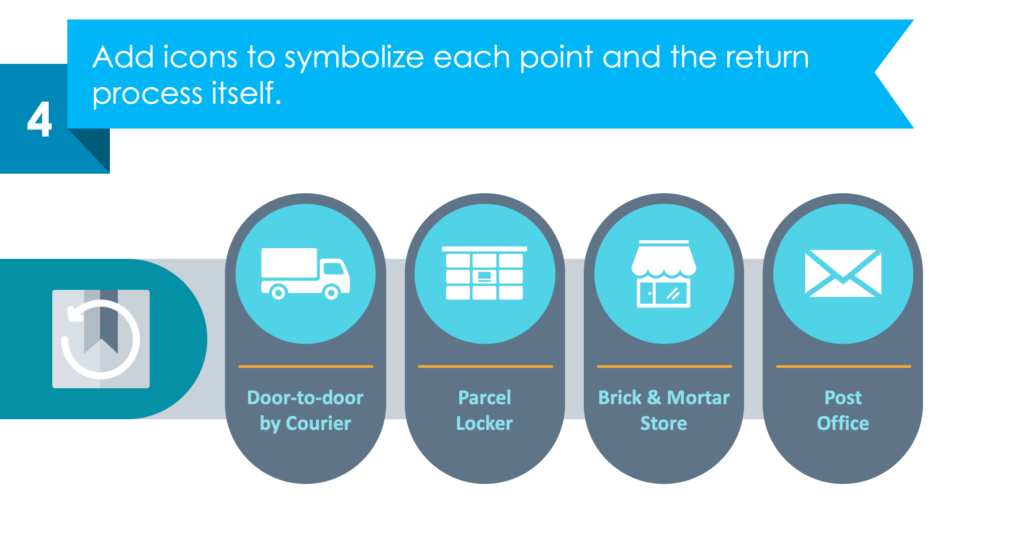 I hope this redesign will give you a clue how you can prepare similar presentation slides to make them more eye-catchy.
For more ideas on how to incorporate icons into a PowerPoint presentation, I recommend checking this article: Five Creative Ways to Embed Icons in Your Slide Design.
Check also this guide along with other category examples on the infoDiagram YouTube channel:
Sources
The diagrams and graphics above are a part of the infoDiagram slides collection E-commerce Analysis Management Presentation.
If you are in a need of more ideas on how to redesign slides for other categories, check this blog for inspiration.
Related Posts
You may also like other posts.