Do you need to present a checklist of some kind? In today's blog, we will give you some directions on how to redesign a checklist type of slide content, on the example of legal due diligence.
But first, let's see why we have optioned a checklist, rather than a standard bullet point text.
The slide Before the Redesign
Following up on the above-mentioned, our source slide here uses a bullet list text. As a result, we have a stuffed description with no significant distinguishment of the paragraphs. It can be hard to keep up with such a type of presentation.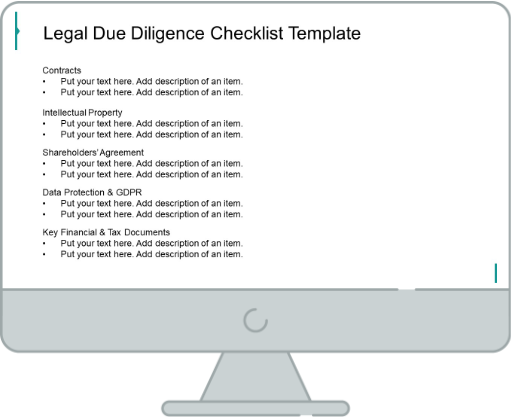 Let's see now what the legal due diligence checklist slide looks like with added visuals.
Due Diligence Checklist Slide After the Redesign
Notice that the content on the slide below is tidy and ordered. There's no doubt about how many points are in the checklist and what's the header and what's the additional detail.
Adding icons for specific Due Diligence items will help readers recognize the topics and see their status. For example, we represented Data Protection with a shield icon and Shareholder Agreement by people and table. To check more tricks on how to choose icons and embed them in PowerPoint, see this blog Five Ways to Embed an Icon in Your Slide .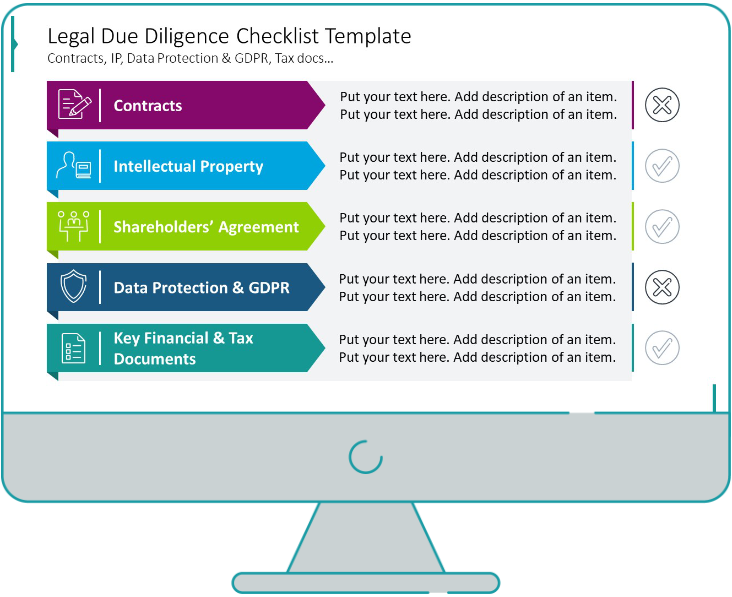 When compared together, we can clearly see that the previous challenges such as stuffed text, and no catchy elements have been resolved with a simple design touch.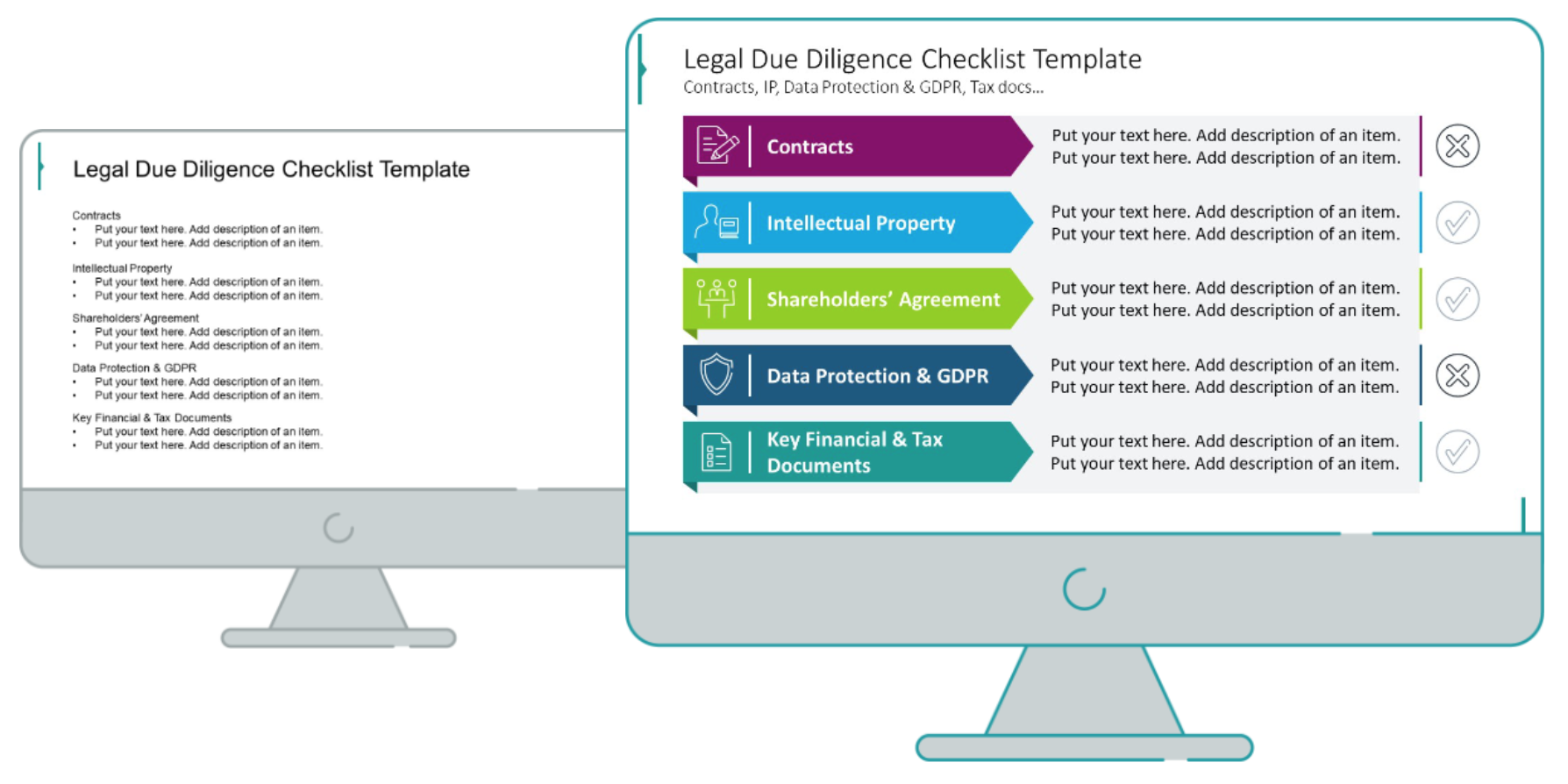 Let's see how we effectively redesigned this slide in a few steps.
Step 0. Analyze the slide information
Before you start, see what is the intention of this slide. What are key points, what is additional information, what is a reading flow…
On the source slide, we have a list of five areas, that are checked by a due diligence process. This is our key information, it's a list. So let's put those areas on a slide as nicely visualized graphical items. Another thing to notice is that a result of a checklist is status – done or not done. Such information can be nicely represented by an icon instead of text.
The next step is to think about the overall layout of the slide.
Try to plan your content in such a way as to fill the whole space of the slide but remember about the adequately wide margins. Take a look at the slide before the redesign. There is the right side of the slide left empty. Such distribution of content gives the impression that the slide is unfinished, which automatically makes it unattractive to the audience.
Step 1. Create ribbon shapes
Now we can move to create the list shapes. Let's use some customized shapes designs, to make the slide look more interesting. Combine three basic PPT shapes to create the ribbon. Duplicate as many ribbons as you need.
Step 2. Distribute the ribbons throughout the slide
Now, place the ribbons evenly throughout the slide for better visualization. Use for that distribute vertically and align objects options in PowerPoint. After that, fill the ribbons with text.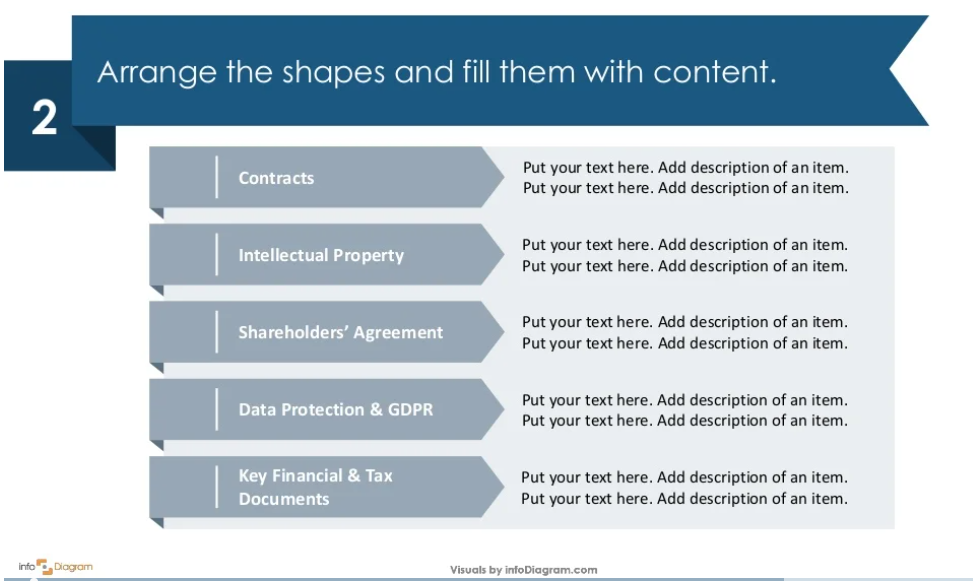 Step 3. Add colors and graphic elements for catchiness
Make your slide look more catchy and compelling, by adding different colors to emphasize the categories. Also, add associative icons next to each of them, along with a checkmark and cross mark for the operation status.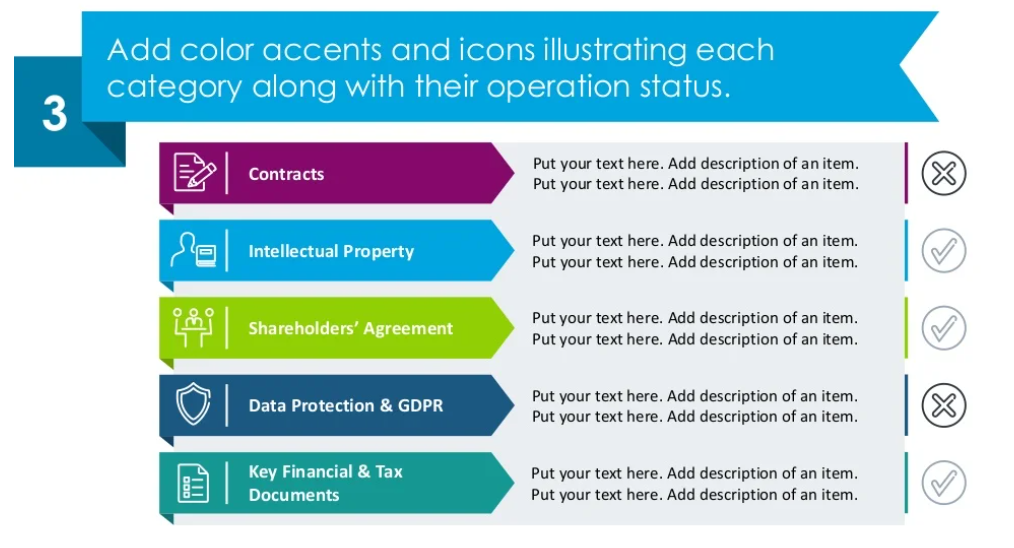 Here's a YouTube tutorial for more due diligence slide preparation ideas.
Takeaway note: An attention-grabbing presentation will always have different colorful visuals and icons to make the information more digestible.
You can practice your design skills with this free sample collection.
Source
The slide makeover we used here is part of the infoDiagram's Due Diligence Process, Types, Checklists Diagrams gallery. Check there for more slides.
See also how to make your whole presentation compelling in this blog.
Recent Posts