Are you interested in presenting customer behavior? Or generally any creative thinking or cognitive-related topic to your team? For your inspiration, we've prepared a design makeover example with a head and brain graphic presentation slide.
We try to share here effective presentation graphics that doesn't acquire too much time and are rather simple to recreate on your own.
Head and Brain Graphic Presentation Slide Before the Redesign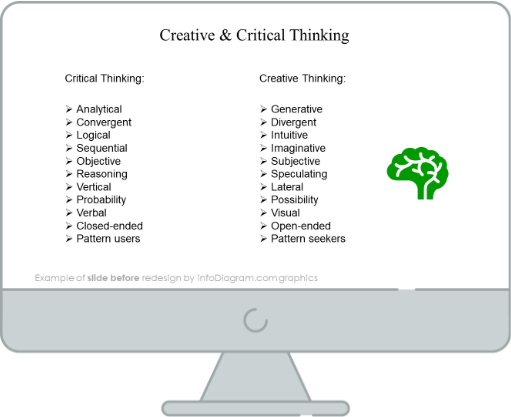 Our source slide presented here looks very simple and plain. There aren't any specific distinguishments, and it uses old-looking bullet points that make it harder to read the slide at once.
Head and Brain Graphic Presentation Slide After the Redesign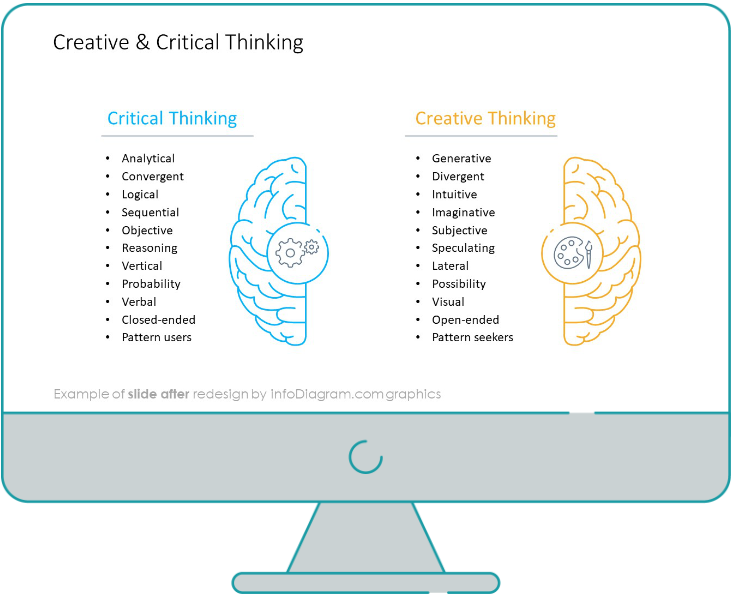 Look at that change in this redesigned slide. Sometimes with a few simple design tweaks and easy-to-implement elements you can get a much more interesting presentation slide!
Let's have a closer look at both.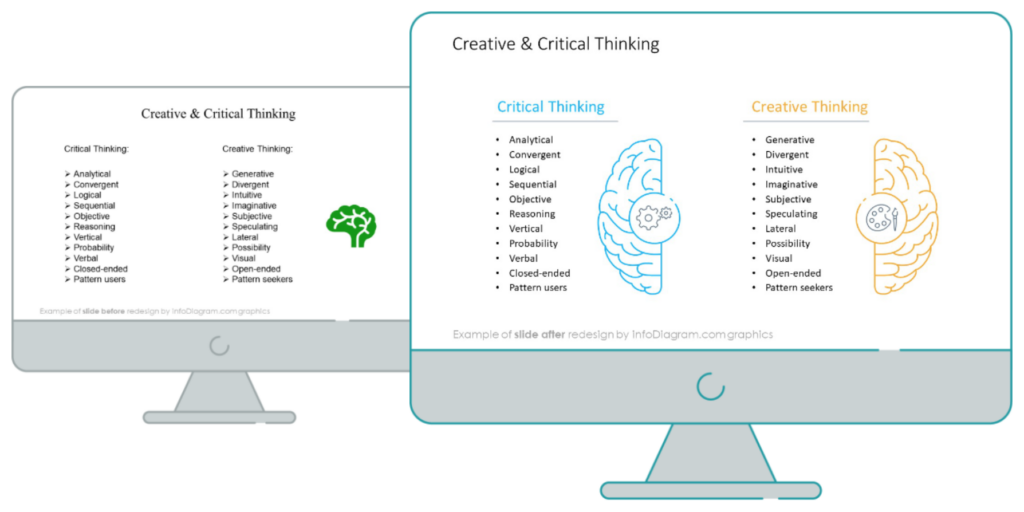 The uplifted redesigned slide looks much more appealing and readable, even if the presented information is the same. See how we made this retouch with four simple steps.
Step 1. Align Your Text to Readable Mode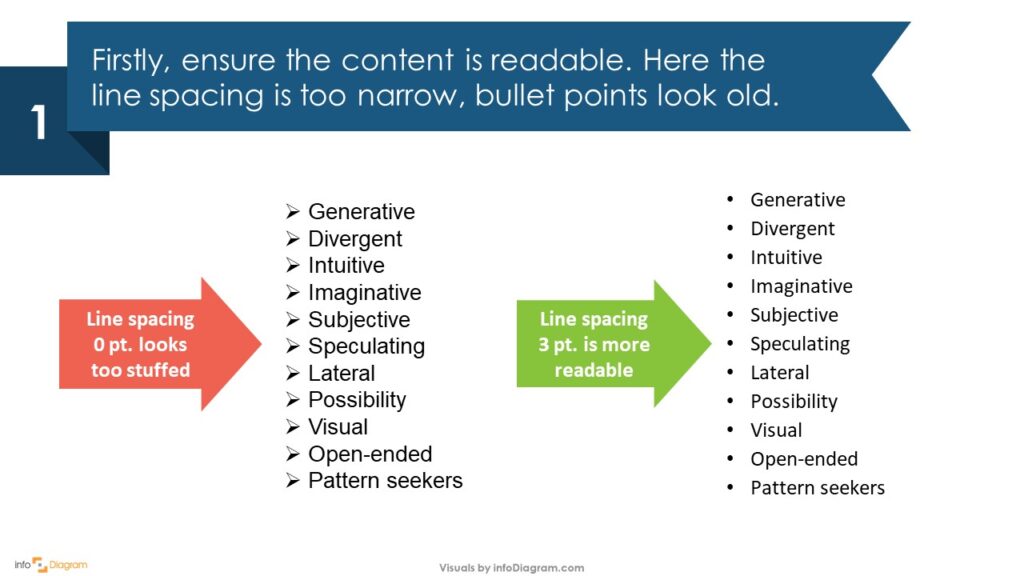 When you're placing text in your presentation, it can be quite tricky when it comes to balancing between sufficient, readable information and overly-stuffed text. Luckily, it's not unachievable. If you're using enumeration for your discussion topic, make sure to have a space between each section. Here we have replaced the arrows with standard bullet points and used Calibri font to make everything look clearer and easier to understand.
Step 2. Have Enough Space for Text and Graphic Elements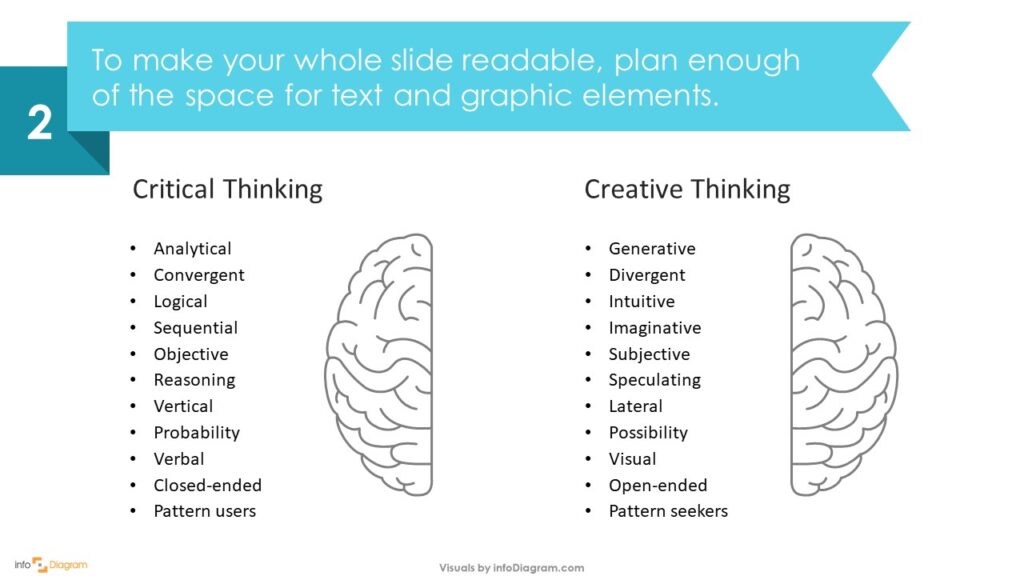 After we improved the text structure, we placed brain vector images in the rest of the space – the right hemisphere along with the creative thinking explanation, and the left with critical thinking.
Step 3. Use Color for Element Distinguishment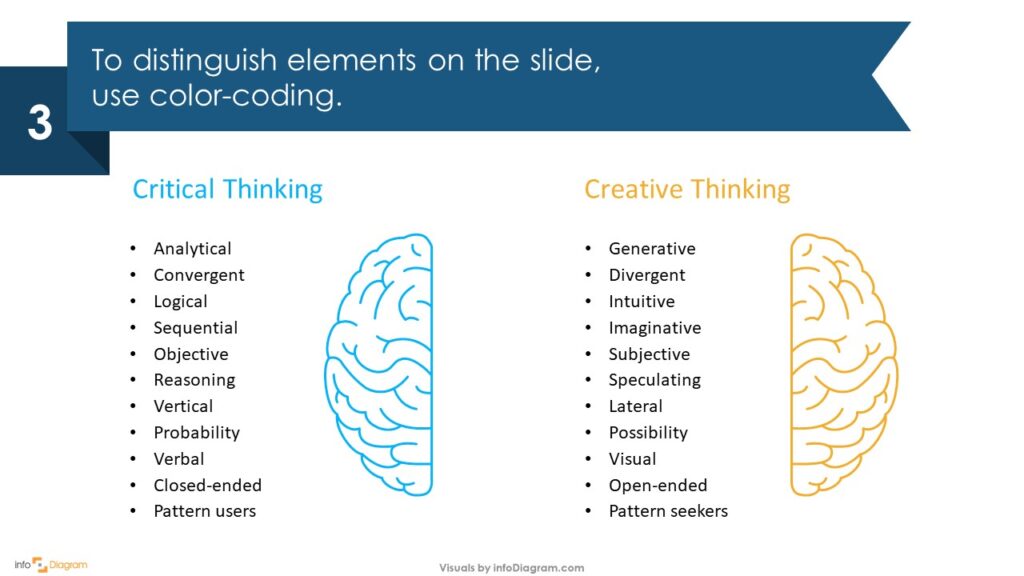 It's quite important to use color-coding in order to distinguish the elements presented. Notice how we used orange for both the creative thinking title and the right-side brain, and blue for the critical thinking section and the left-side brain. This will help your audience to understand also subconsciously there are two distinct categories. And the slide will look more attractive, too.
Step 4. As a Final Touch, Add Icons and Lines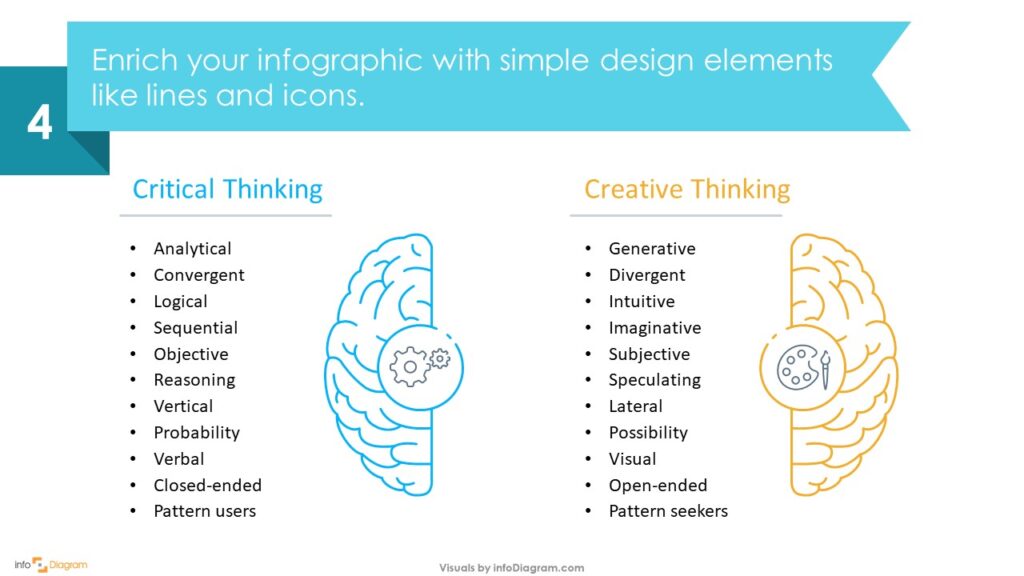 Add graphic design elements such as line vectors and icons to make your presentation even more unique and impactful. In our case, we've added lines under both titles, to further emphasize them. In the creative thinking section, we have added a palette icon as an association with art and creativity, whereas in the critical thinking section, the gear icon represents process, work, and innovation.
For more ideas on how to represent abstract concepts such as creativity or processes using single icons, have look at this article: 50+ visual metaphors to present a business concept in a presentation.
I hope this simple guide has inspired you to make interesting graphics yourself for any upcoming presentation. If you're not familiar with designing PowerPoint slides, you can learn with this free sample set.
If YouTube Video Tutorials are your go-to, we've also prepared one for you:
If you are specializing in human behavior and want to discuss this topic more extendedly, you can check this Ying Yang PPT Template.
Source
The graphic slide makeover used in this post is part of the infoDiagram Creative Brain and Head Outline Infographics Template collection. Check there for more redesigned slide ideas.
You may also have a look at this blog for Presenting Creative Thinking with Head and Brain Graphics.
Recent Posts