In this post, I will explain to you the way to design a nice Profit and Loss statement presentation with a financial table.
A standard financial report includes a series of tables with income statements, cash flow, balance sheet, equity changes, and liabilities. With this type of dense table, the information should be presented as simply as possible.
P&L Statement Table Slide Before the Makeover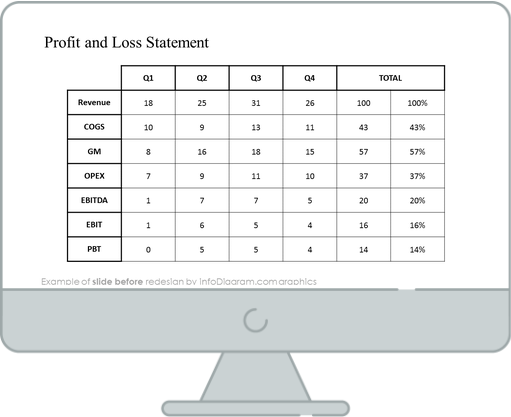 Our source slide presented above looks old-fashioned and overwhelming. It's also quite monotonous.
Let's see now what the recreated slide version looks like.
Profit and Loss Statement Table After the Makeover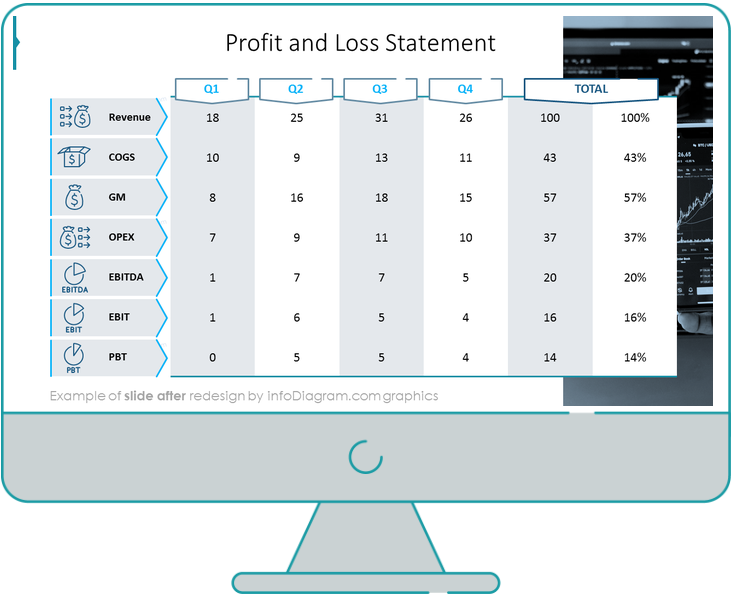 The recreated slide looks far better. We have changed the table layout, then added ribbon shapes, a contrasting background, and icons!
Let's make a simple comparison.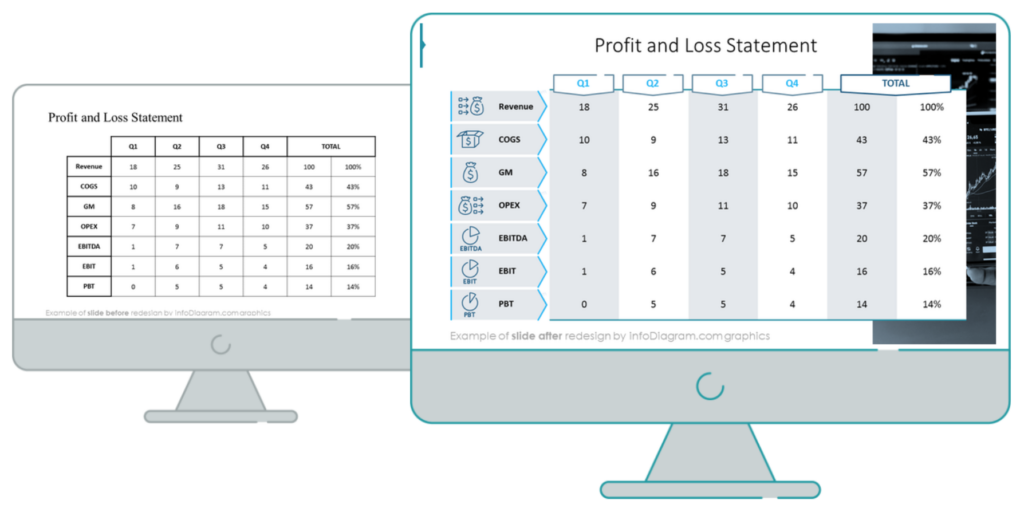 The uplifted slide looks definitely much better than the one on the left-hand side. Also, the information looks more understandable even for an inexperienced eye, and most importantly, the icons help to easily communicate each of the key financial information presented.
See how we redesigned this slide with five steps.
Step 1. Start with preparing shapes for custom table headers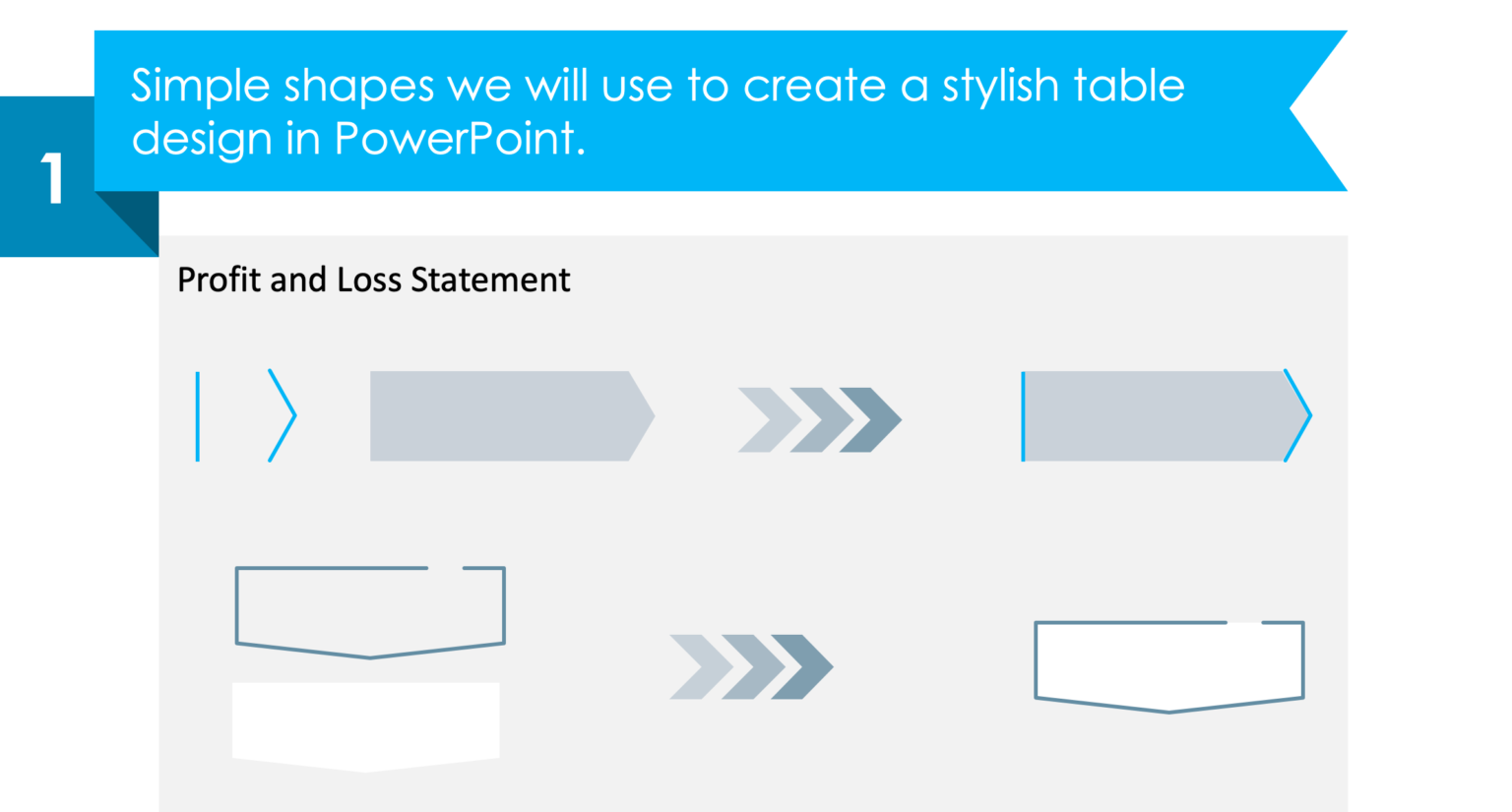 We have added several vectors, such as straight lines and arrows, and ribbon banners for adding texts.
Step 2. Paste the financial information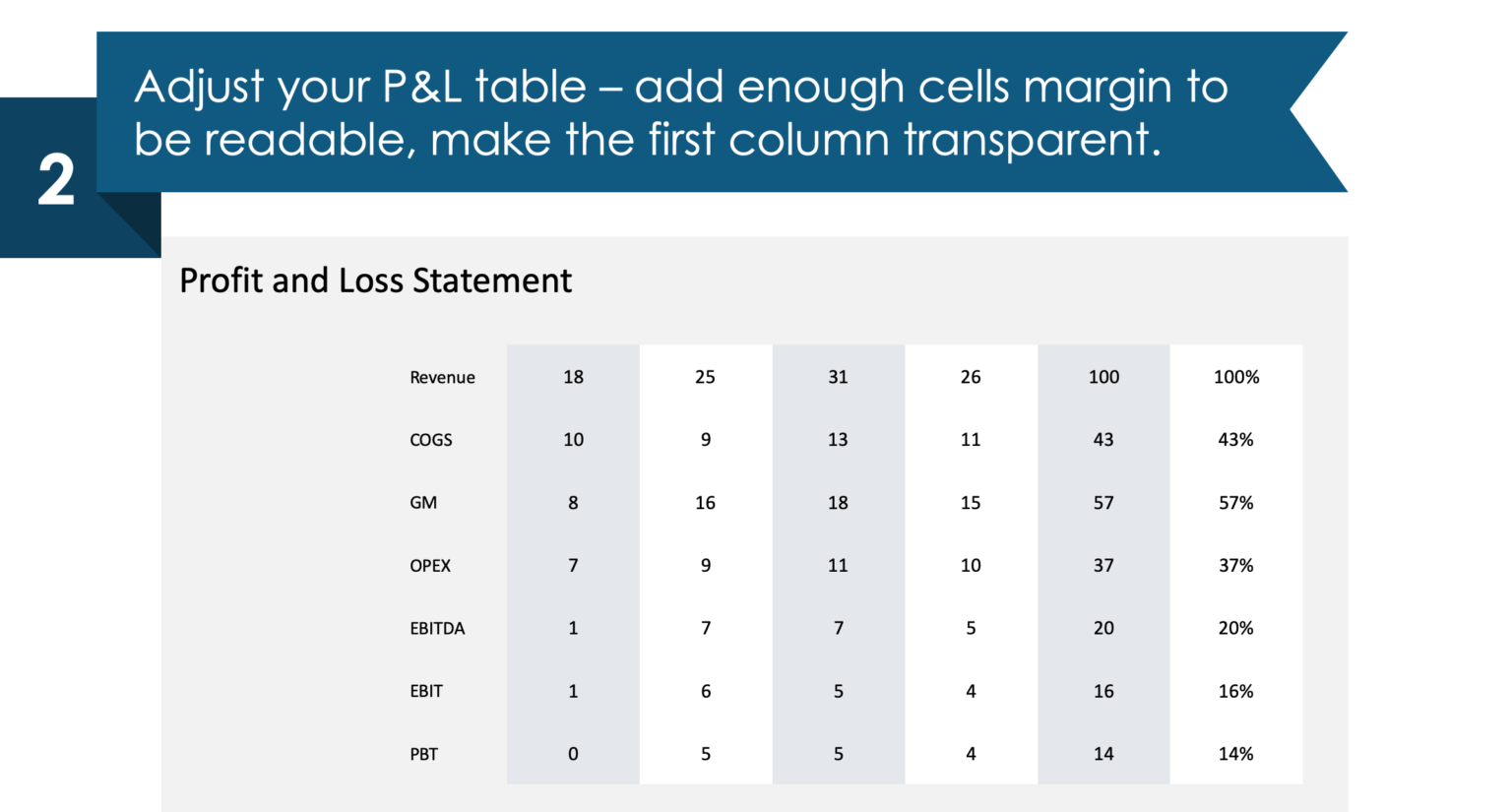 Add enough margin cells to make the text more readable, then paste the profit and loss statement into the slide. Make sure the first column is transparent. We will use it for adding a custom header design.
Step 3. Emphasize quarter headers with ribbons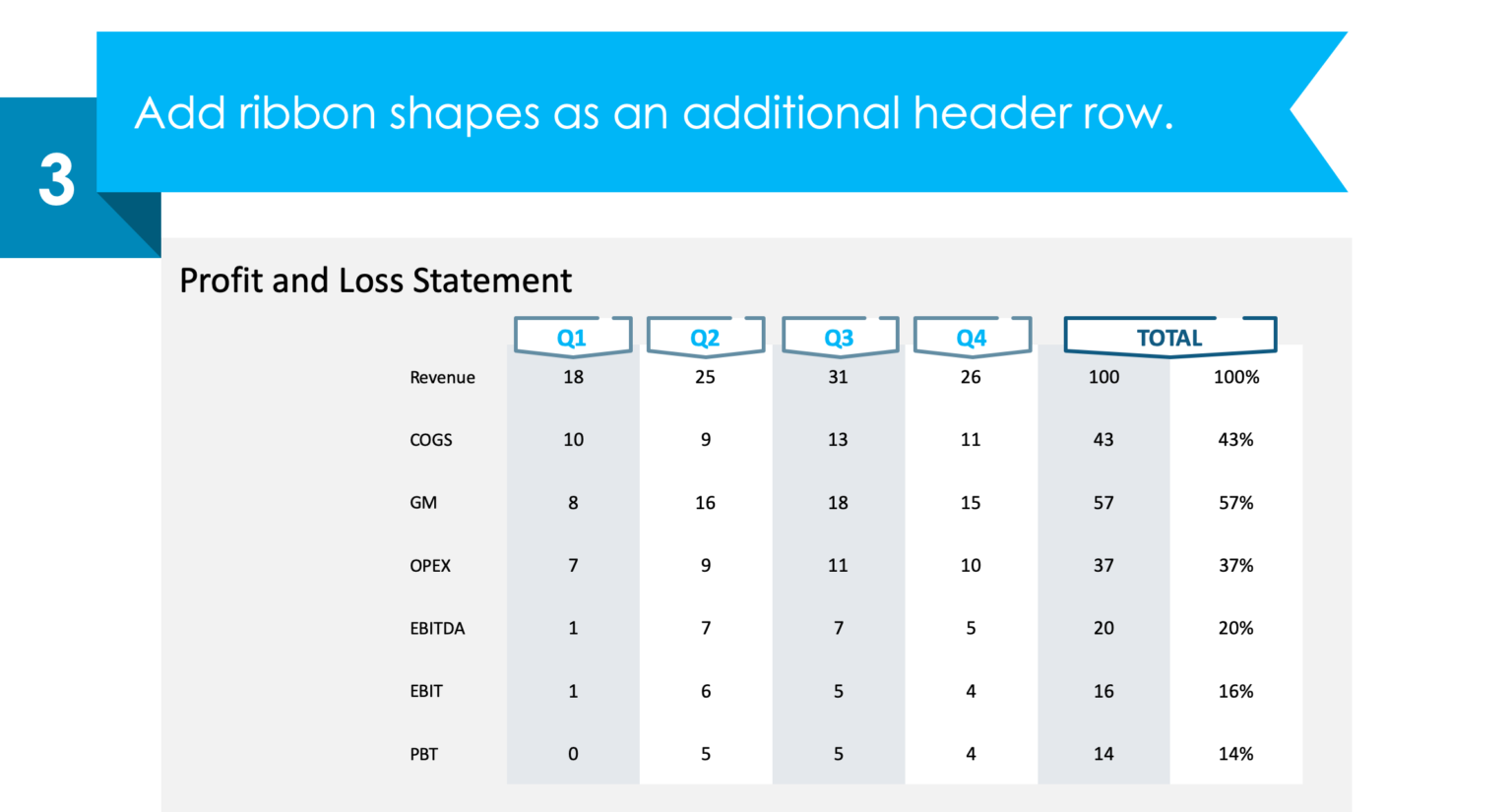 Make stylized pretty header row. Shift the focus on every quarter and the total annual report by adding ribbons just as we did.
Step 4. Beautify the first column with financial categories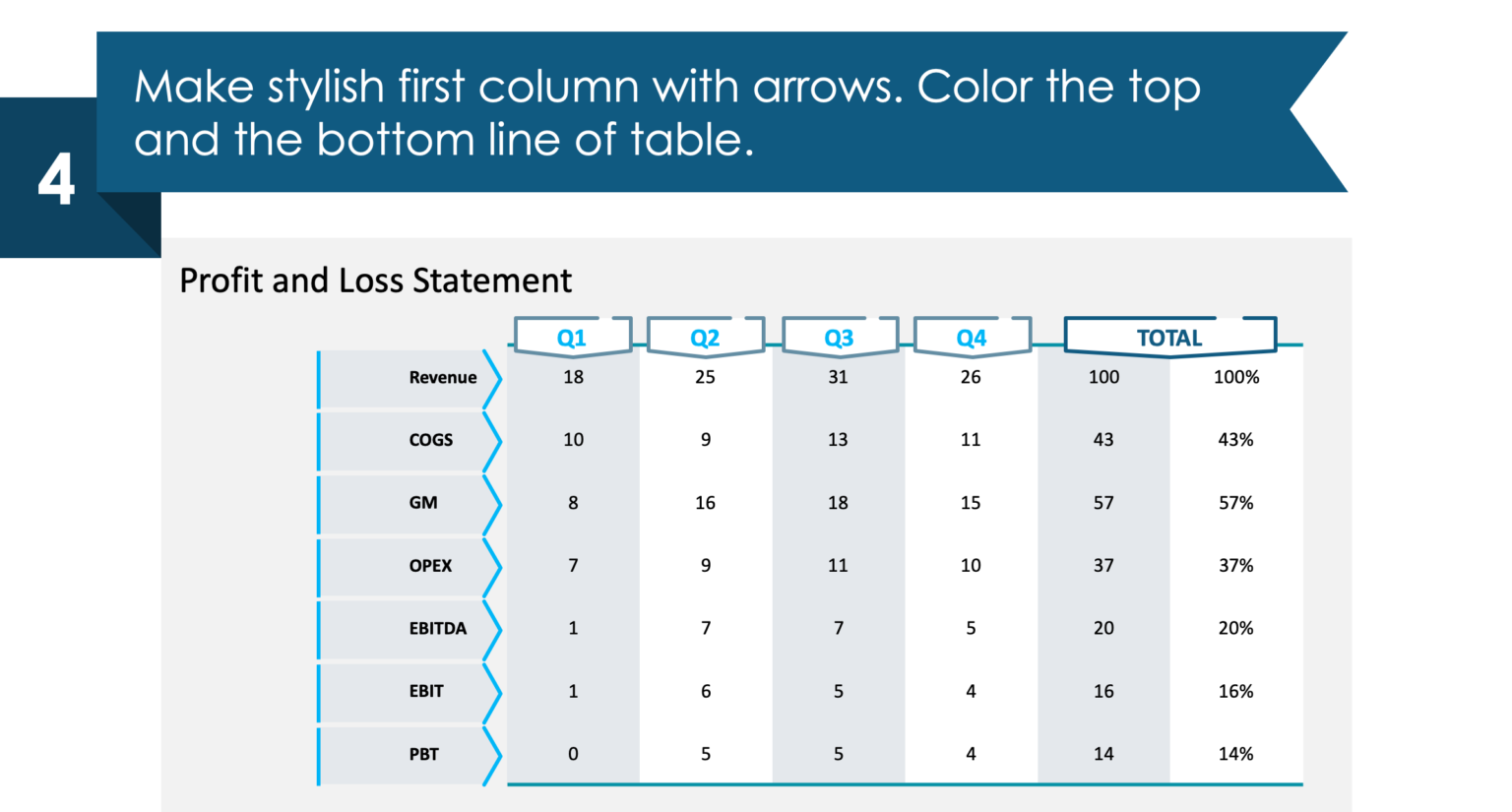 Then add arrows in the first column to better distinguish every key financial category and bold those words.
Step 5. Help understand financial categories with icons help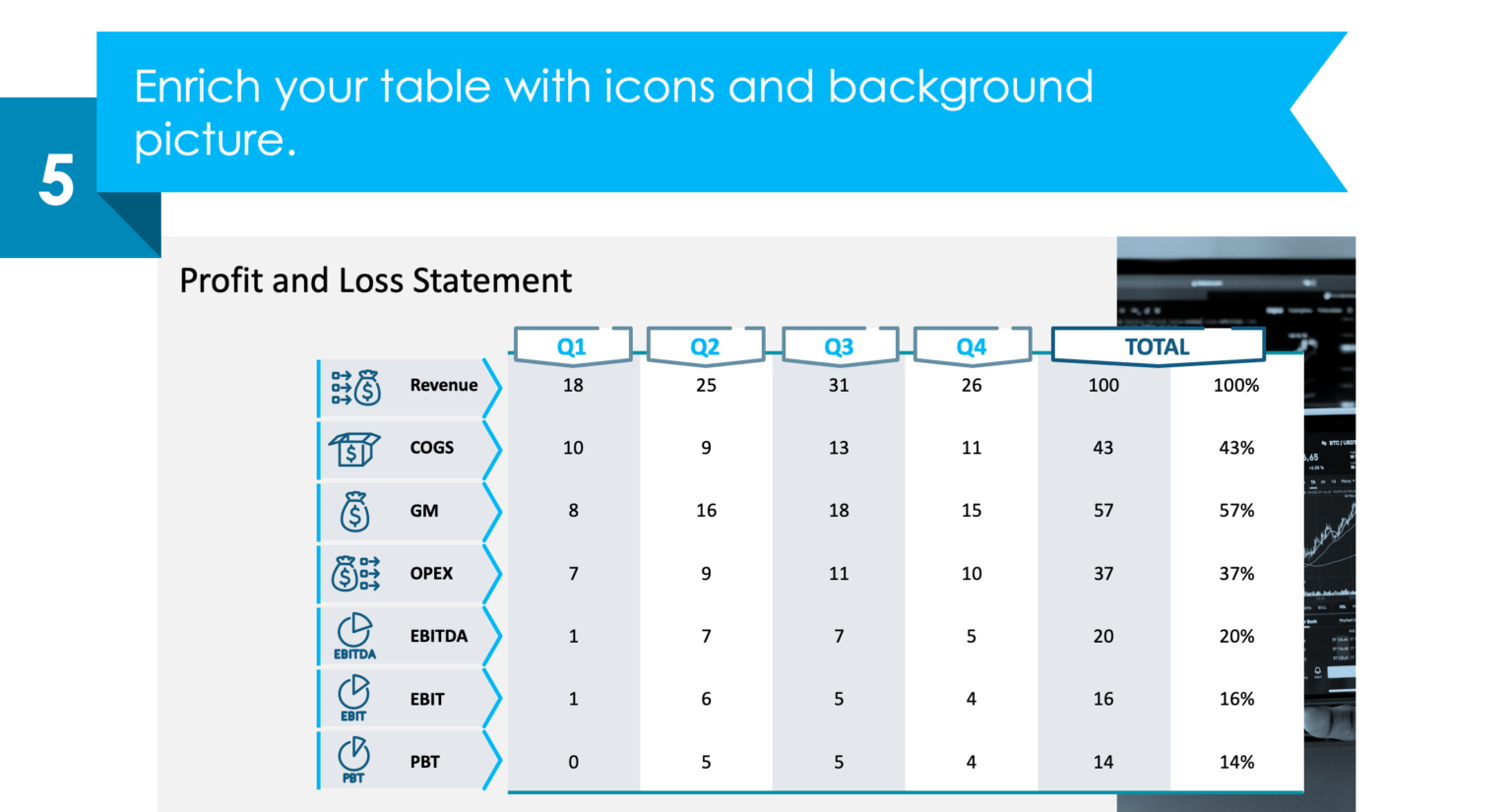 I think you've learned by now that we don't leave anything halfway! We have added icons explaining various financial categories such as COGS, OPEX expenses, EBITDA, EBIT earnings, and final PBT – Profit Before Tax. Adding such symboling information to a financial jargon helps to understand also people not directly familiar with those financial terms.
In the end, we added a light design touch – a stock market background picture to make this slide more appealing and element-rich.
Hope you like this post and that it gave you some inspiration for your work.
Learn more ideas on creating visual slides from scratch, thanks to this free sample kit.
Source
The slide makeover we used in this post is part of the infoDiagram Financial Report and Performance Indicators Presentation (PPT Template). Make sure to check the whole gallery.
Check out this blog for more financial aspects of slide recreation ideas.
Recent Posts