Presenting the annual marketing activities plan can be quite overwhelming with the amount of information you need to pass to your audience. On that note, we have created for you an example of a yearly marketing plan makeover with an outline table, to help you send a loud and clear message, presented as simply as possible.
Table with Yearly Marketing Plan Before Redesign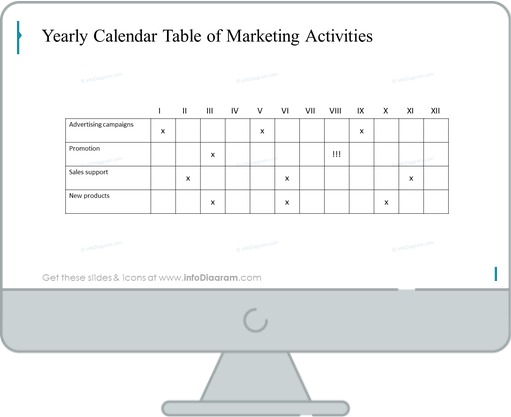 Our source slide presented here looks pretty plain and boring. The calendar is average-looking and not very attractive for a marketing plan presentation.
Let's look at the redesigned version now.
Yearly Marketing Plan Table After Design Update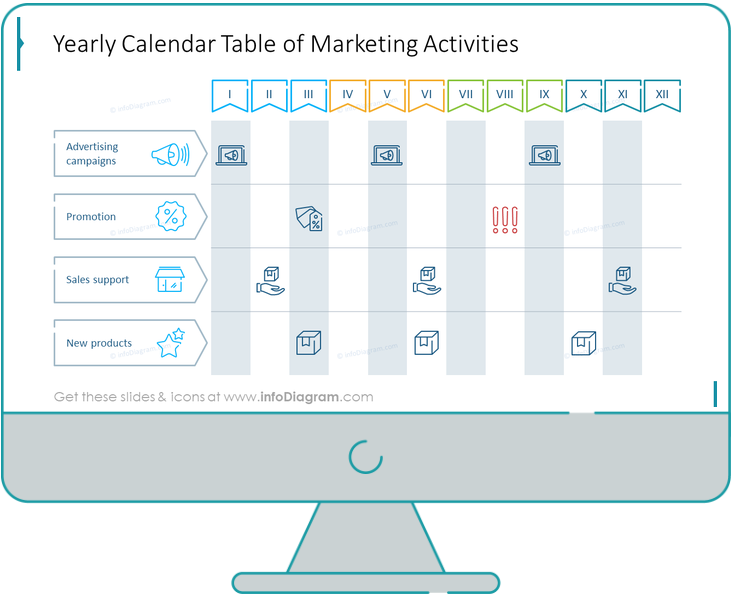 That's quite an improvement now, isn't it? We have replaced the standard old table, added different icons and elements, and as a result – we got a clean-looking table slide!
Now let's have a closer look at them.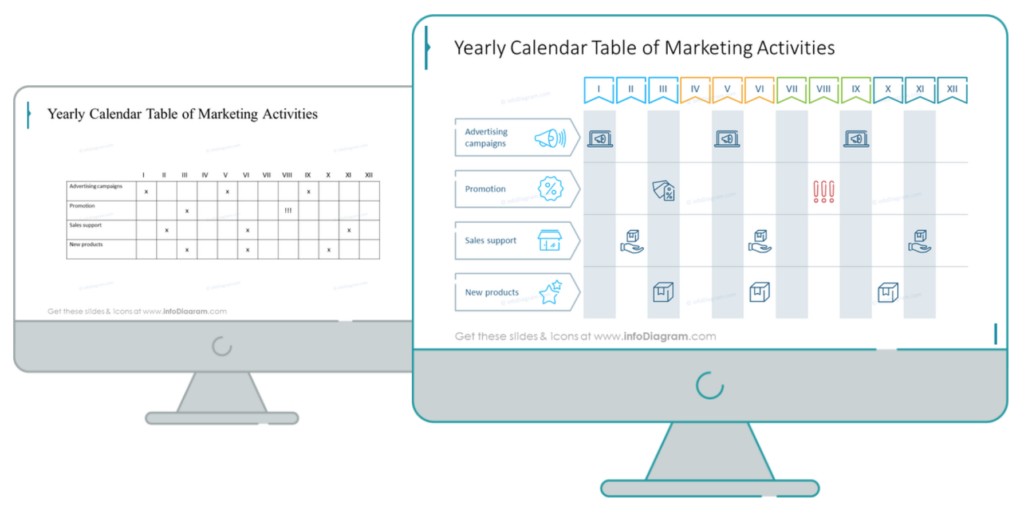 See how we recreated this slide with the following four steps.
Step 1. Use icons instead of text inside table cells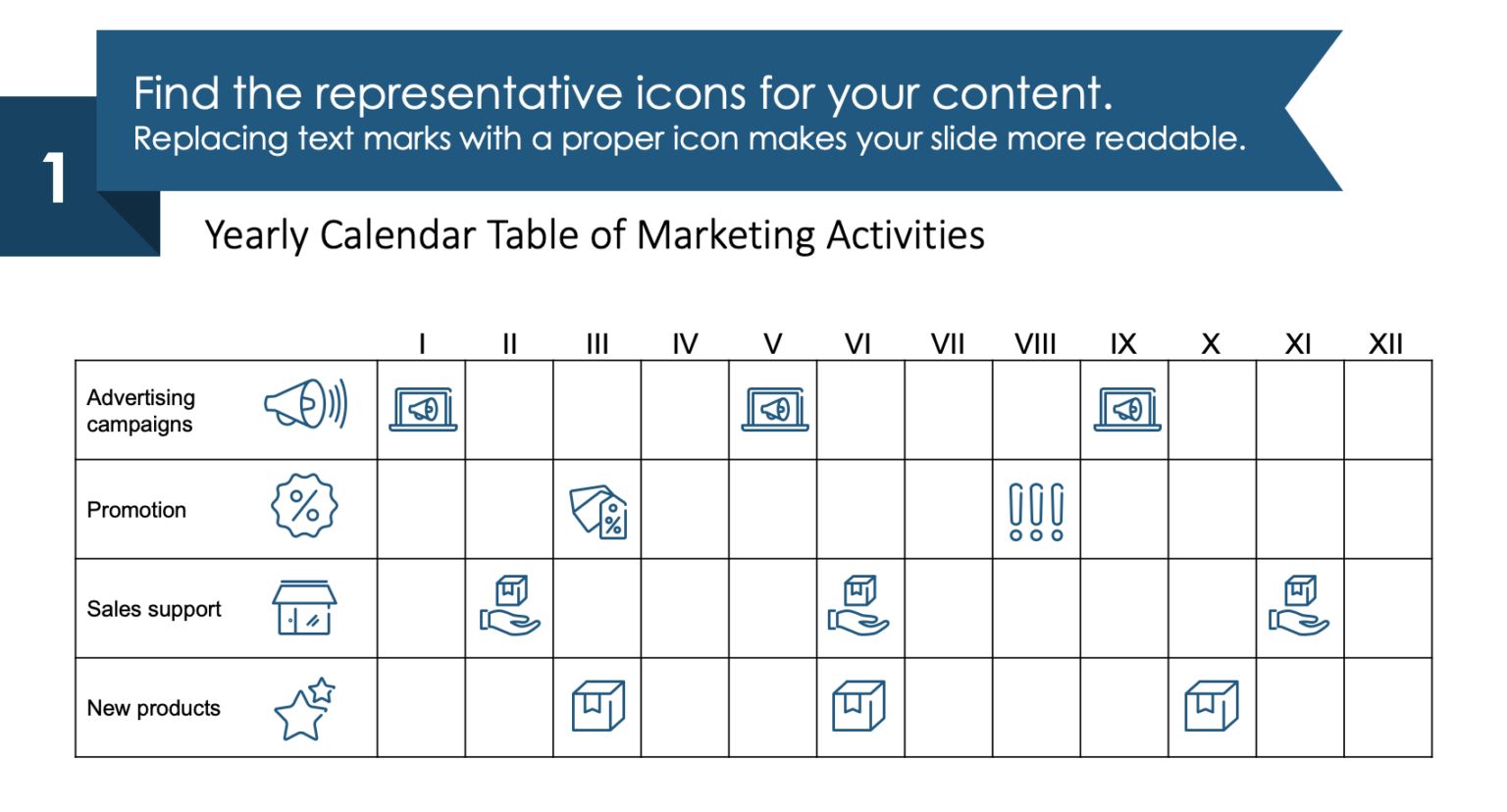 Instead of stuffing your table with long text, add icons that will represent the team's responsibilities. They are faster to understand and it's also more motivating to look at them.
Step 2. Beautify the table with graphic elements such as ribbons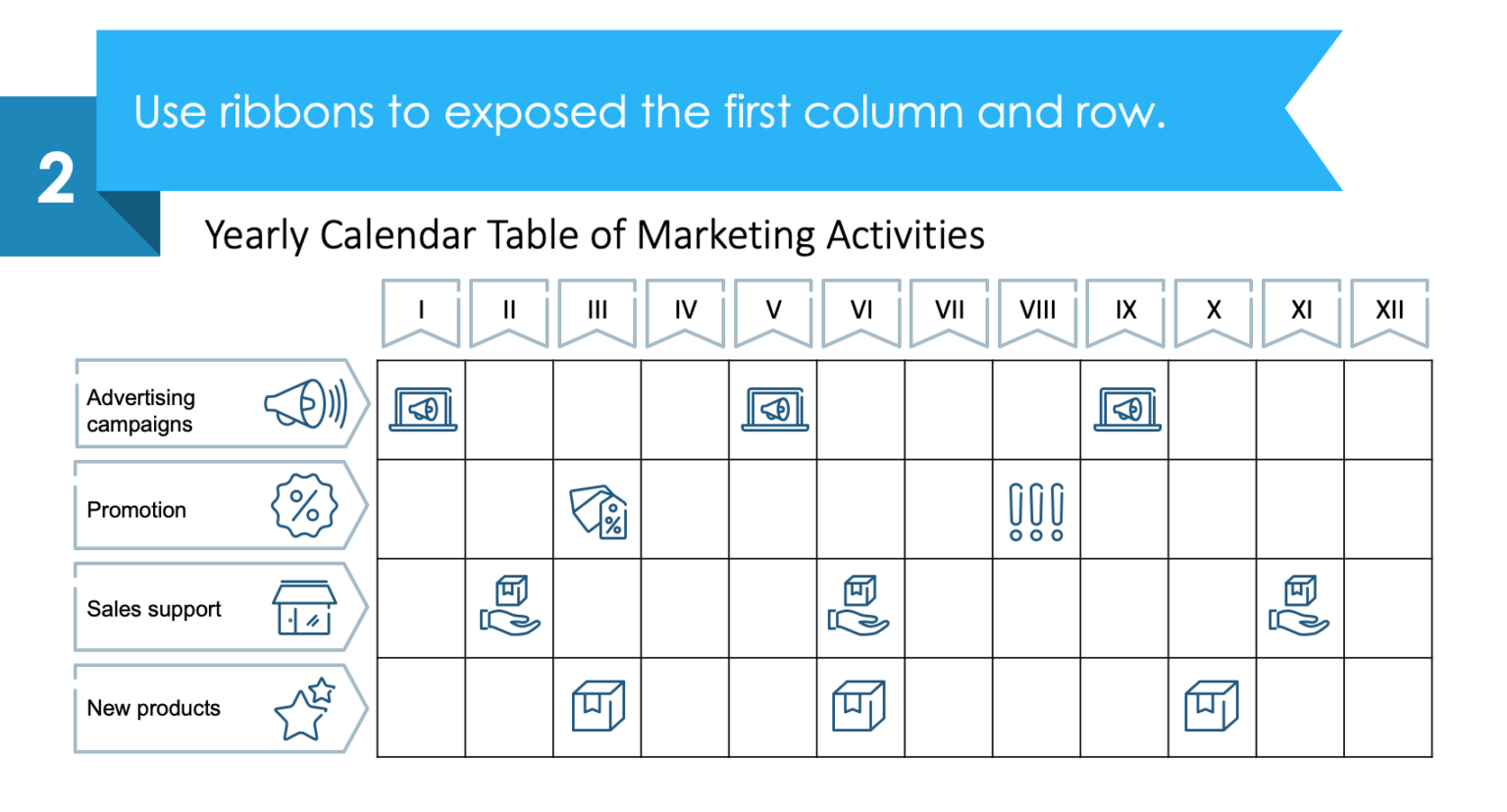 Accentuate the first column and row by adding ribbons. The table also looks more tidied up that way.
Step 3. Replace heavy table grid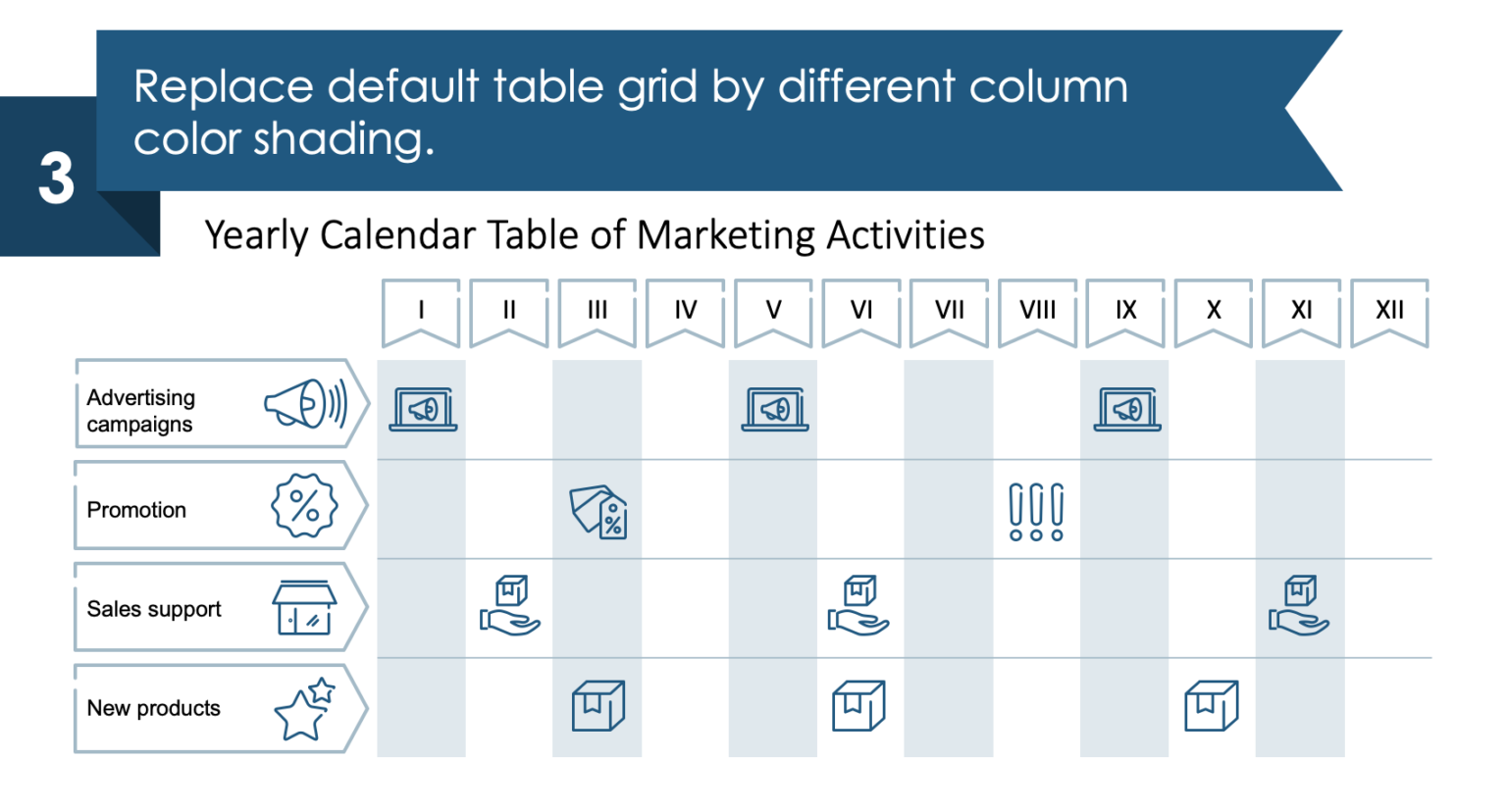 Replace the default old fashion table grid with column color shading for better appearances.
Step 4. Use color coding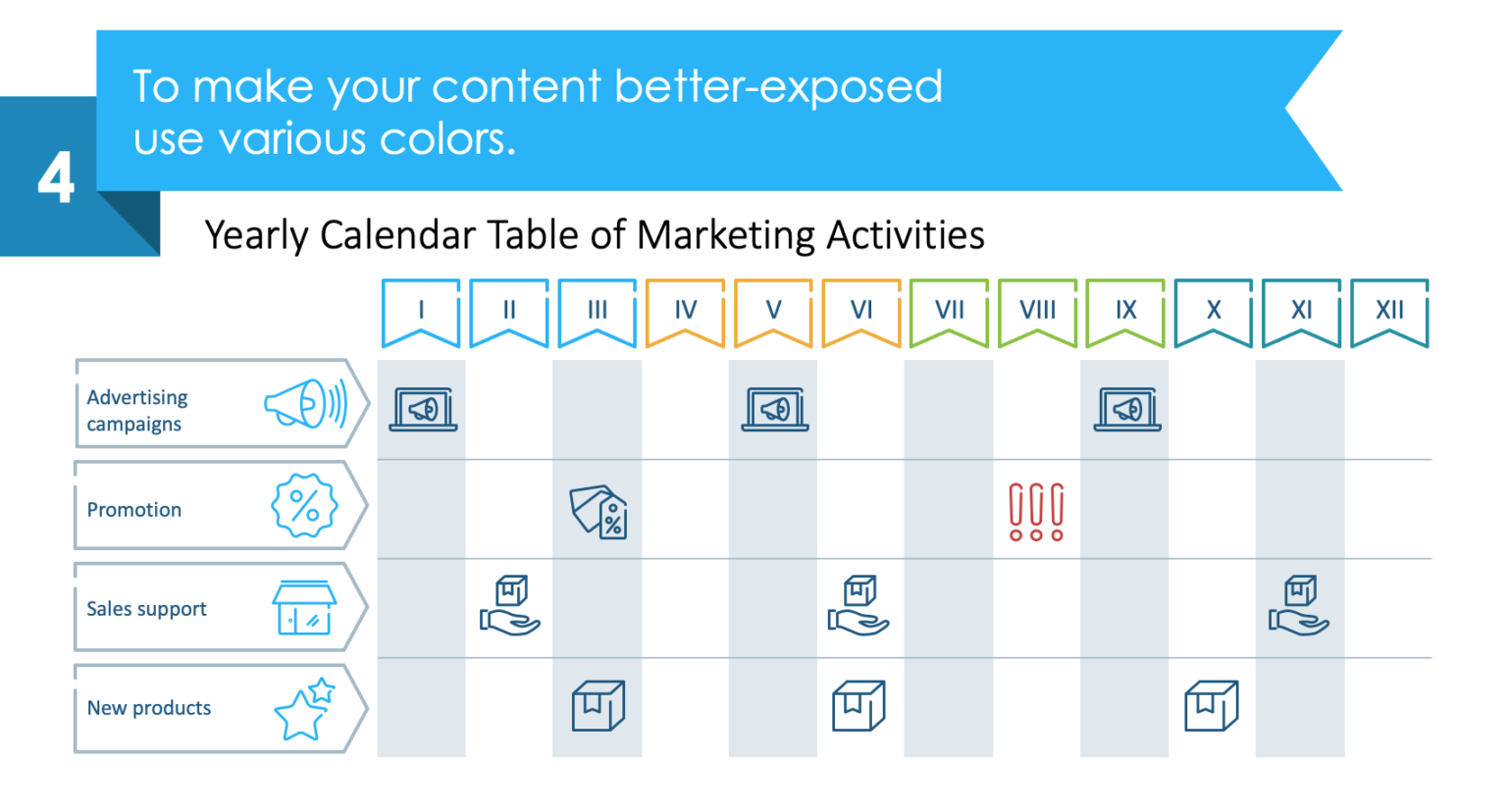 As a final touch, add some color coding to your table, just as we did with the ribbons for the months. We also added flat outline icons to complement the slide. The final look is very appealing, engaging, and clear.
I hope you find this blog useful and inspirational. Start doing your own slide today with this cool free samples collection and make an impactful presentation!
Source
The slide makeover used in this blog is part of the Creative Presentation and KPI Outline Design PPT Template collection.
See how you can Create Time-Saving Creative Tables in PowerPoint effortlessly.
For more table redesign ideas, check this blog out.
Recent Posts