Have you ever worked with tables in PowerPoint? We work with them often, this time it's a table with sustainability strategy content. And you know, your final effect doesn't have to look like a commonly known, typical table. I'd like you to see how we turned a slide presenting metrics of John Elkington's triple bottom line sustainable strategy concept into a creative illustration.
We have replaced the standard table content with simple elegant graphics.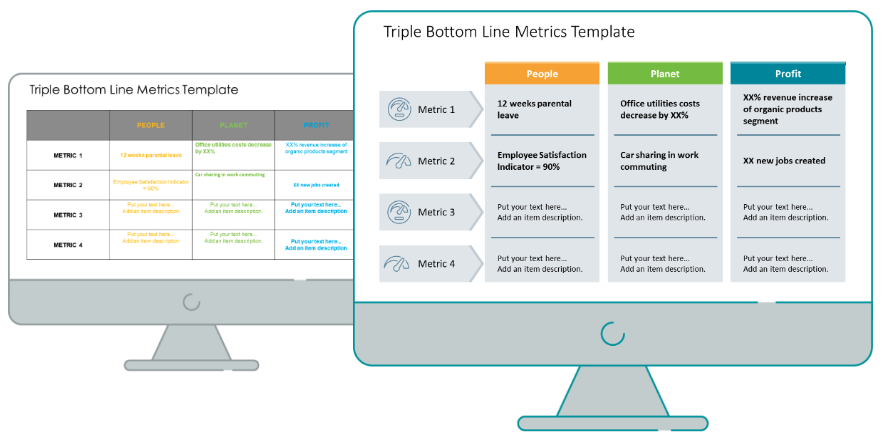 Source: infoDiagram slides graphics library Triple Bottom Line Sustainable Strategy PPT
Slide with Triple Bottom Line Metrics before the redesign
Our source slide consists of highlighted text that is difficult to read and could be problematic for people with sensitive eyesight. Furthermore, the white background table along with the grey frame makes it appear as if it's even farther.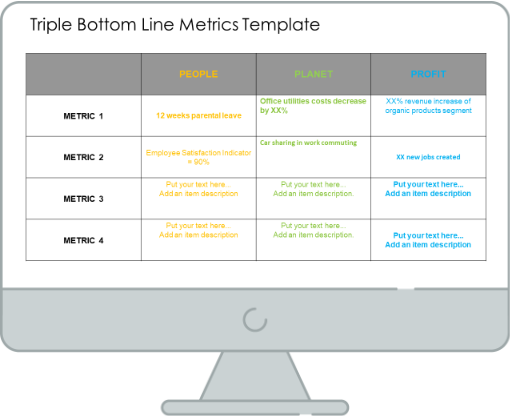 Triple Bottom Line slide after the redesign
While on the below graphic we have the redesigned slide, in which we simply replaced the background color and frame, added bolded text, and voilà – look at the difference!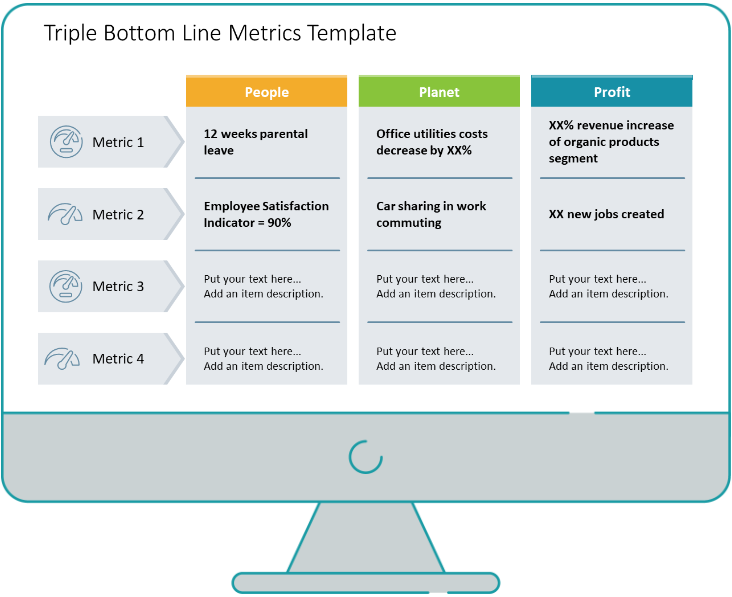 For learning more about design criteria read our other article: what makes an effective presentation slide.
Now, follow these simple steps of creating customized table design.
Step 1: Redo the table from scratch
For a more creative table design, consider not using the standard table elements by creating the structure of the table from shapes.
In our table with a list of metrics for the Triple Bottom Line Method, we created three columns for each of the elements People, Profit, and Planet.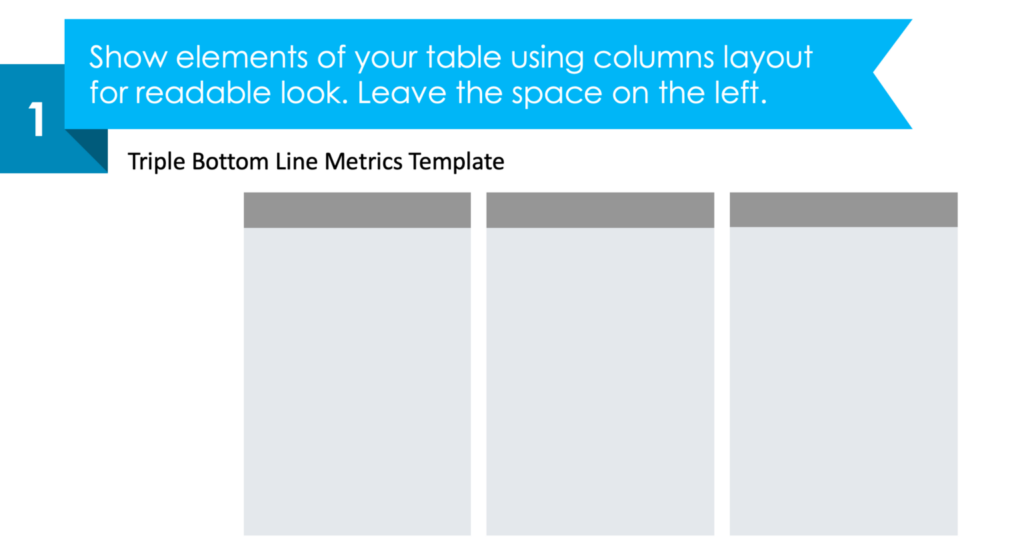 Create a column layout with standard rectangular shapes, composed of header rectangle and content. Align and distribute columns evenly. Leave the space on left for header column.
Step 2: Create an atypical column – with arrow shapes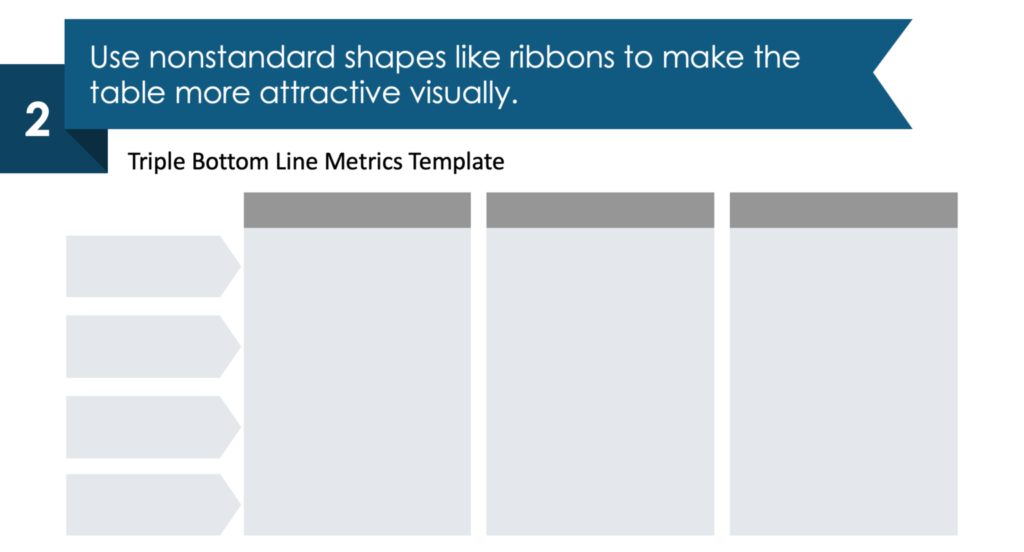 Place the arrow-shaped ribbons on the left side to accentuate the first column layout.
Step 3: Add color and icons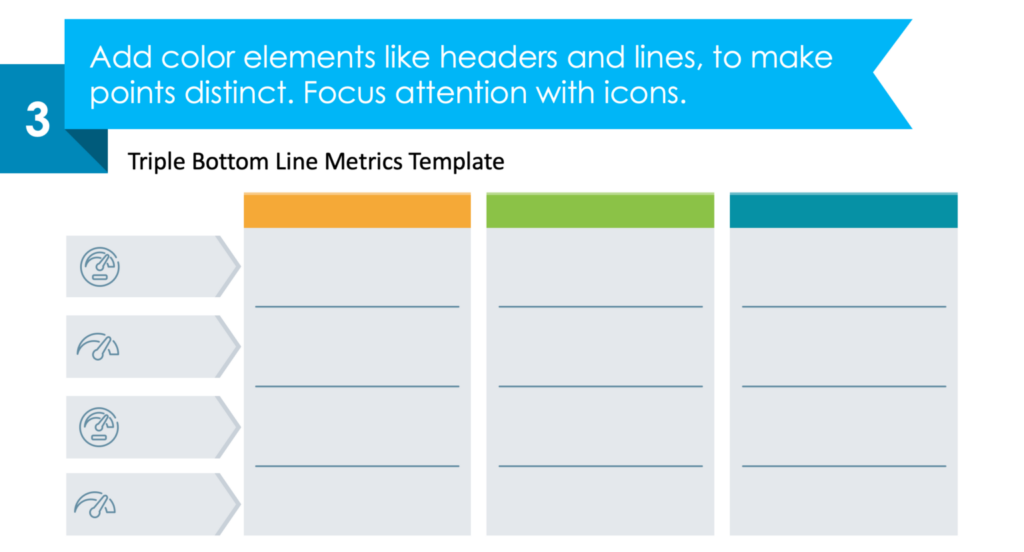 Add some colorful elements to make your slide appear more interesting and picturesque. It's a good idea to place icons in the ribbons as well, to create a better visual association with the header names. Therefore we chose the gauge icons to represent the concept of the metric.
Step 4: Place text in the shapes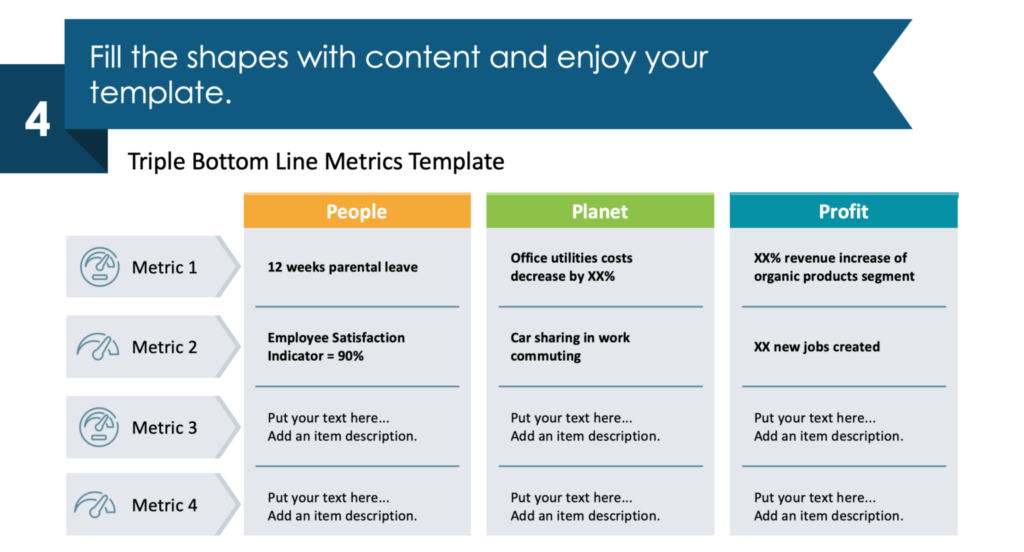 Finally, place the content of the topic you want to discuss inside the empty shapes, and there, you're all set!
For other examples illustrating this specific Sustainability Strategy check infographic slide examples on How to Illustrate Triple Bottom Line Business Model Creatively in PowerPoint.
Here's some quick YouTube guide as well:
Source
The slide makeover graphics we described here is based on Triple Bottom Business Strategy PPT Template library.
If you want to try creating such diagrams yourself, here's a free starter kit sample of PowerPoint diagrams and icons that you can use to play with this kind of presentation graphics.
Related Posts
You may also like other posts.