I'm going to present you a few tips to use in PowerPoint for a graphical change of leaflet with a company snapshot.
We will use the one-sheet leaflet containing business key information in a snapshot, also called a one-pager.
Slide with company snapshot before the redesign
Our source slide contains a lot of text blocks and is hard to read.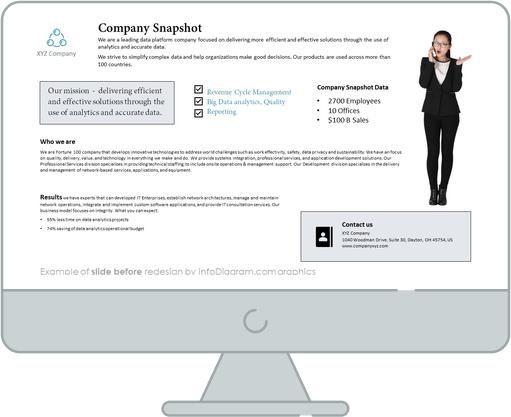 Let's see how you can change it into a visually appealing infographic, using just a few hints.
Slide after the redesign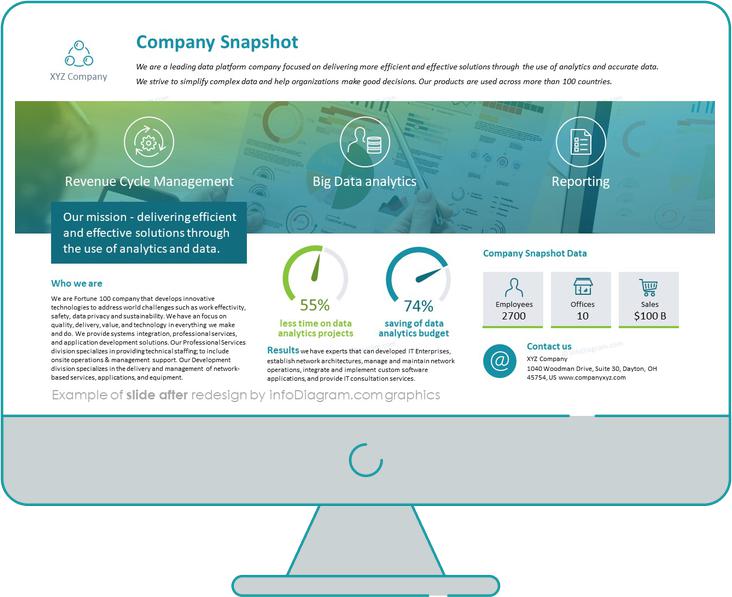 Let's analyze the process of this slide transformation. When we put together both slides, you can spot that facelifted slide looks uncluttered and easy to understand.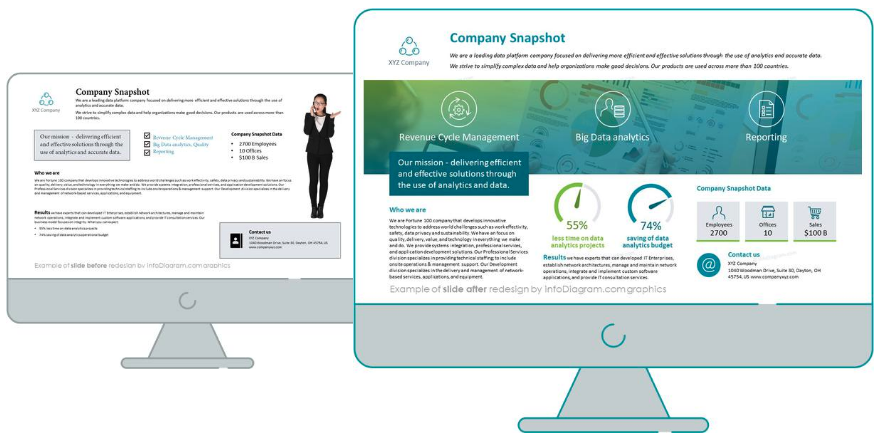 Hint 1: Highlight the most important values with icons
Symbols are attractive to read by human eyes. With properly chosen icons (in the example below are used minimalist outline styled icons), you can catch the audience's attention.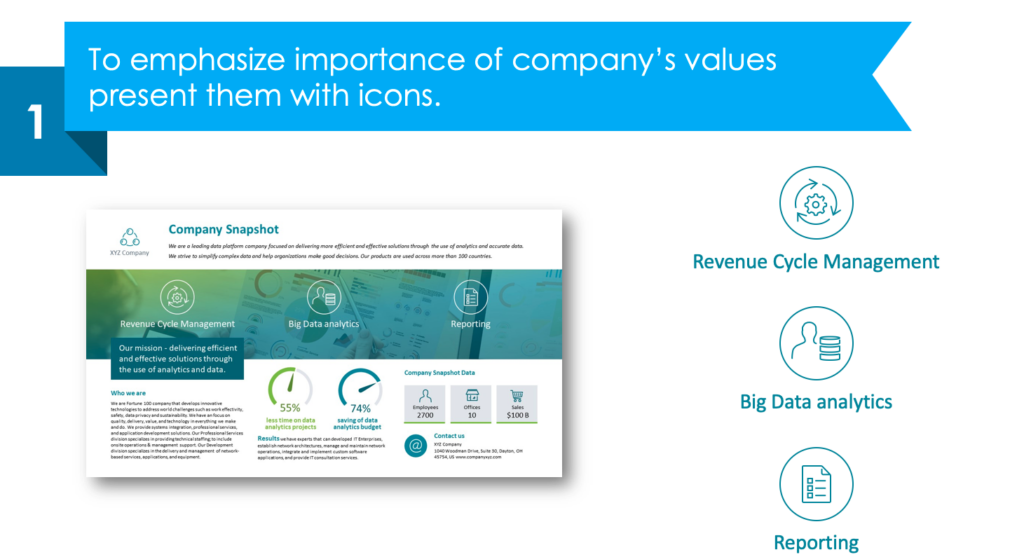 Hint 2: Visualise key indicators with graphic gauges
Data containing percentage indicators are easier to remember when visualised with a graphic explanation. Gauge is a great example of it. It's a very easy trick – the adequate part of the gauge is marked with a color symbolizing the percentage amount.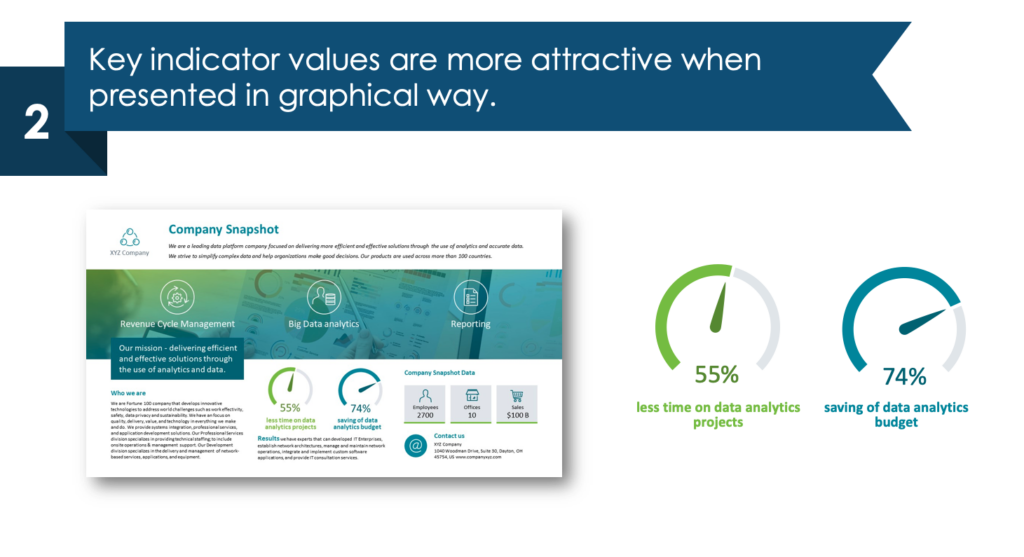 Hint 3: Use the simple graphic concepts for the company data
Such data as the number of employees, amount of branches, offices, or sales incomes look visually compelling, when presented as a graphic concept. Such a concept can be a joining of the icons, titles, and numbers.
Check the slide below how such a little graphic concept was created with a square shape as a background.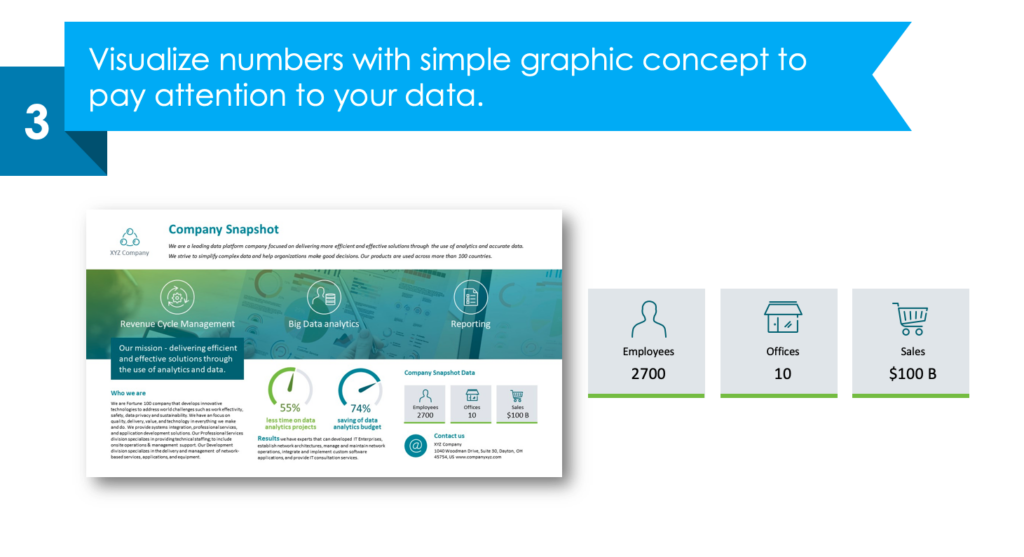 Hint 4: Alignment and margins should be equal
Take care to keep margins and alignment equal on the left and right sides and analogically at the top and the bottom of the slide. Otherwise, your content will look overloaded.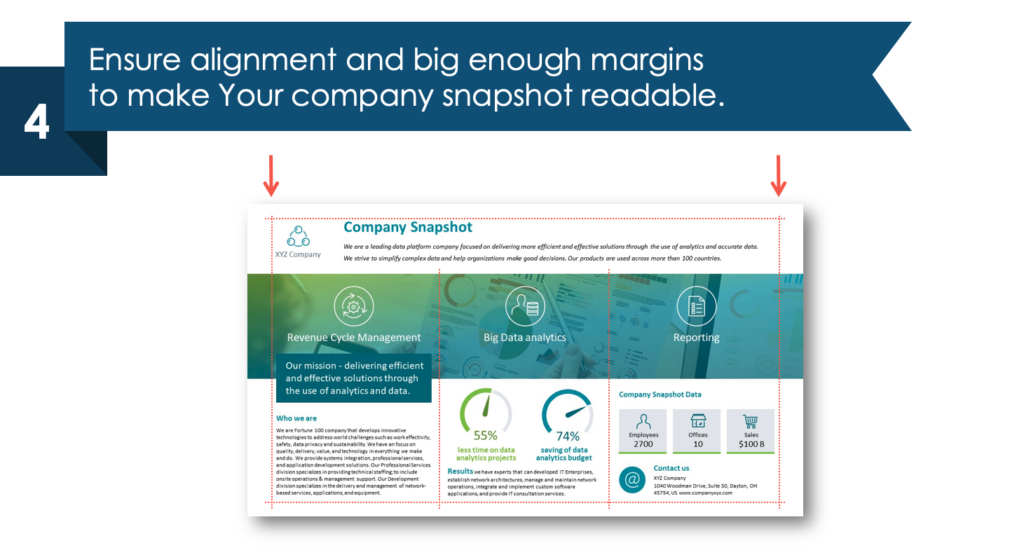 I hope you will find this new slide design easy to grasp and inspirational. For more redesign ideas check our series of posts How to redesign slide.
Here is a YouTube movie illustrating more parts of Company Snapshot One-pager Leaflet.
Sources
The slide makeover graphics we described here is based on the Company Snapshot One Pager Leaflet (PowerPoint Template) infodiagram collection. Check there more slide graphics of this topic.
In addition, check this blog post Company Snapshot One Pager Leaflet made in PowerPoint out.
Related Posts
You may also like other posts.