Are you an established company dating back 10, 20, or even more years on the market? Do you need to outline your company timeline and achievements in a presentation, but you aren't sure how?
Timelines are very often used in PowerPoint presentations. Well-prepared timeline is eye-catchy and easy to understand for the audience. With this post, I will show you how to tidy up your slides full of dates and text by using a flowchart diagram with only a few simple steps.
Company Timeline Slide Before the Redesign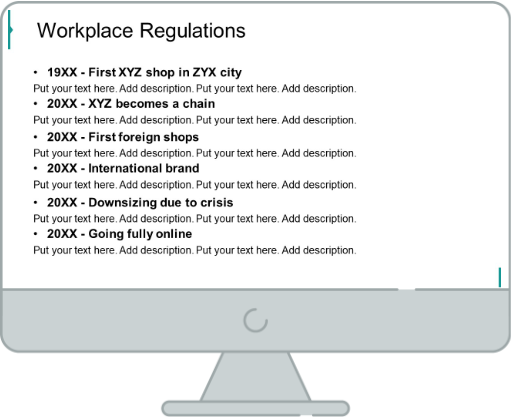 The source slide presented here uses an overwhelming bullet list, which doesn't look attractive. Lack of space between the lines of each bullet is a common mistake in slide design. In our example, it makes the content barely readable.
Let's see how we can beautify it by adding some infographic elements.
Company Timeline Slide After the Redesign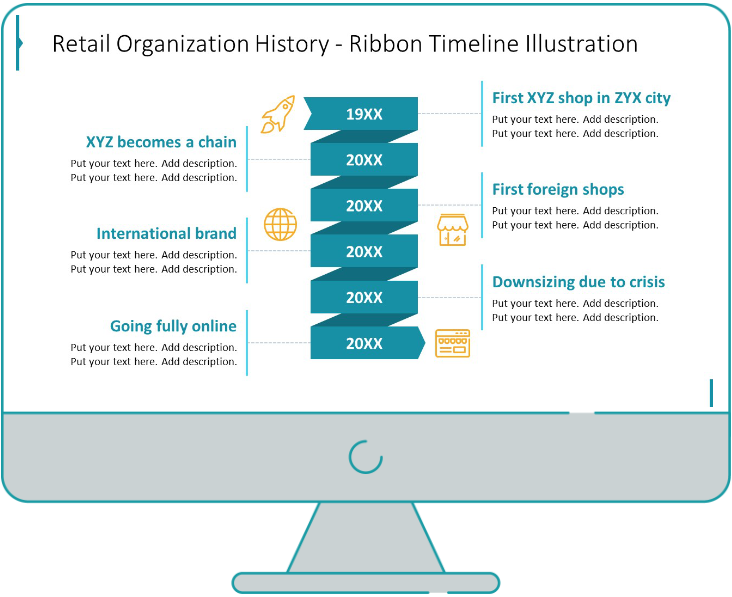 When compared together, we can see that the uplifted slide looks more appealing, engaging, and draws attention, thanks to the elements we included, like ribbons, and icons.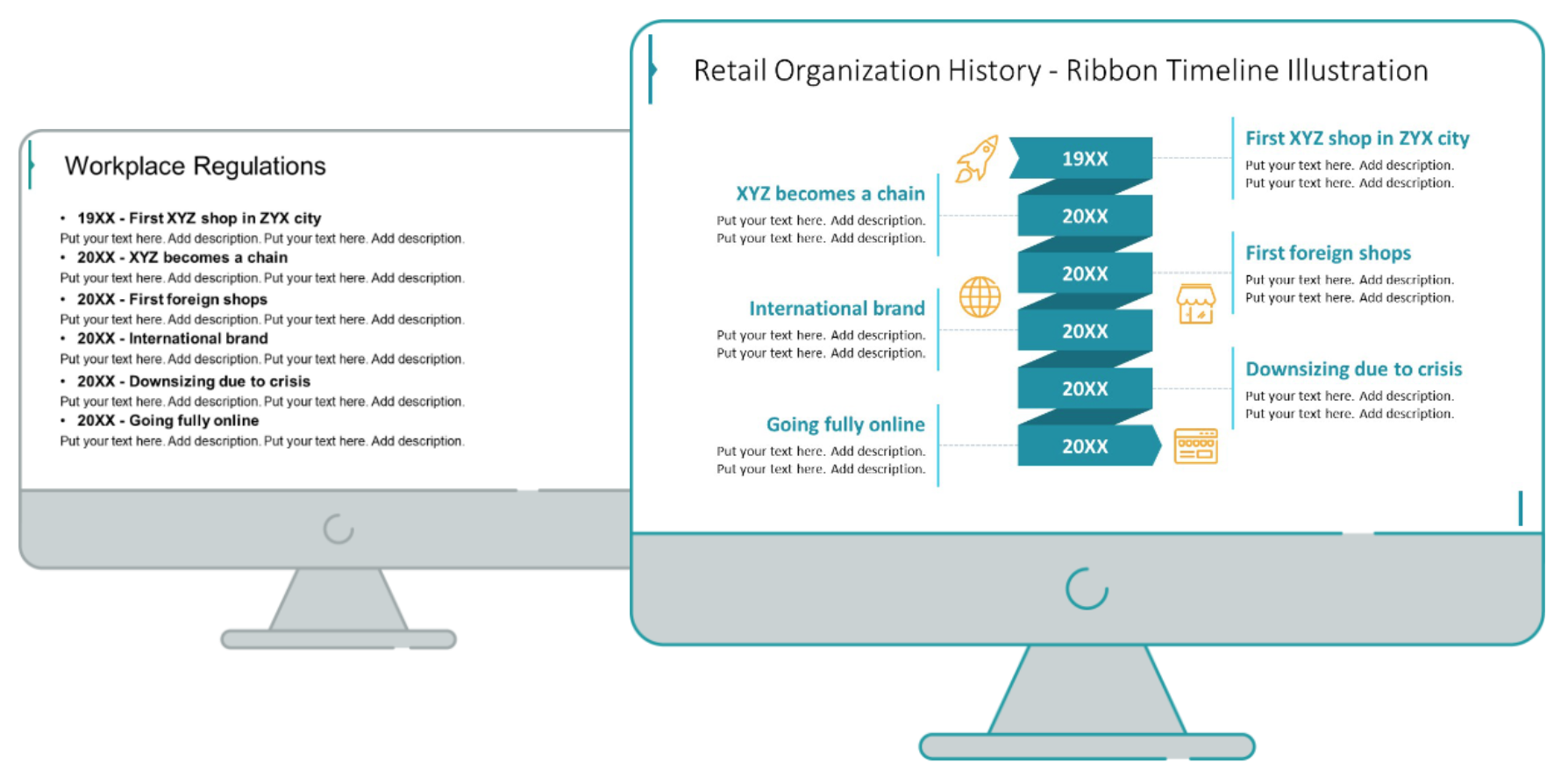 Let's get onto the redesigning steps to learn more.
Tip from designers: Bullet points are very easy to be replaced with a timeline. Each point on the bullet list will be a separate point on our timeline. But it's very important to plan the position of points and margins in advance to leave enough space around.
Step 1. Create a flowchart ribbon
Start adding several basic PPT shapes, which you will merge all together to form a ribbon shape.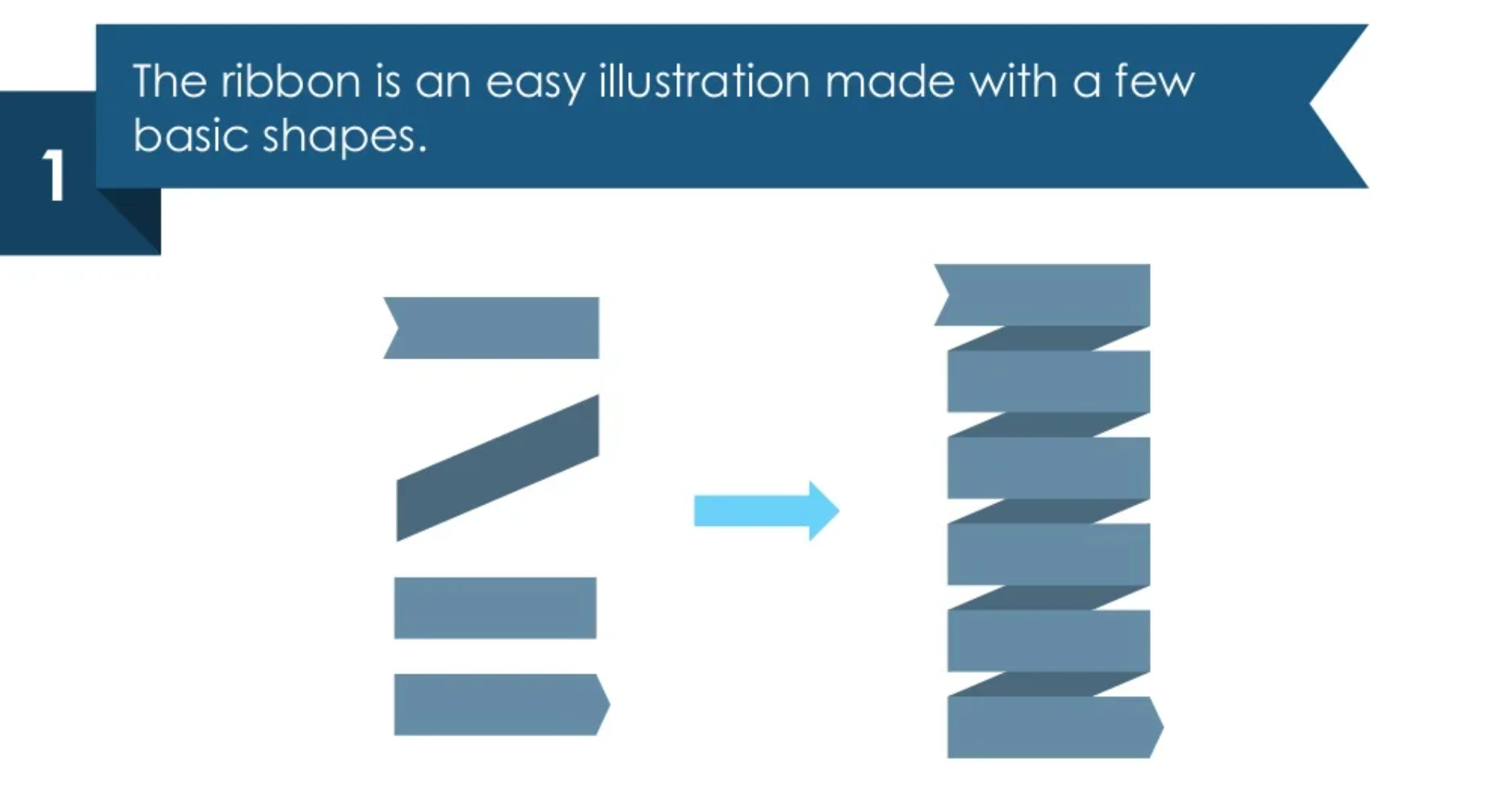 Step 2. Ditch the bullet points
Bullet points can be handy when you want to explain something very brief, but in this case, you are focusing on counting your company's achievements. Adding textboxes will look cleaner.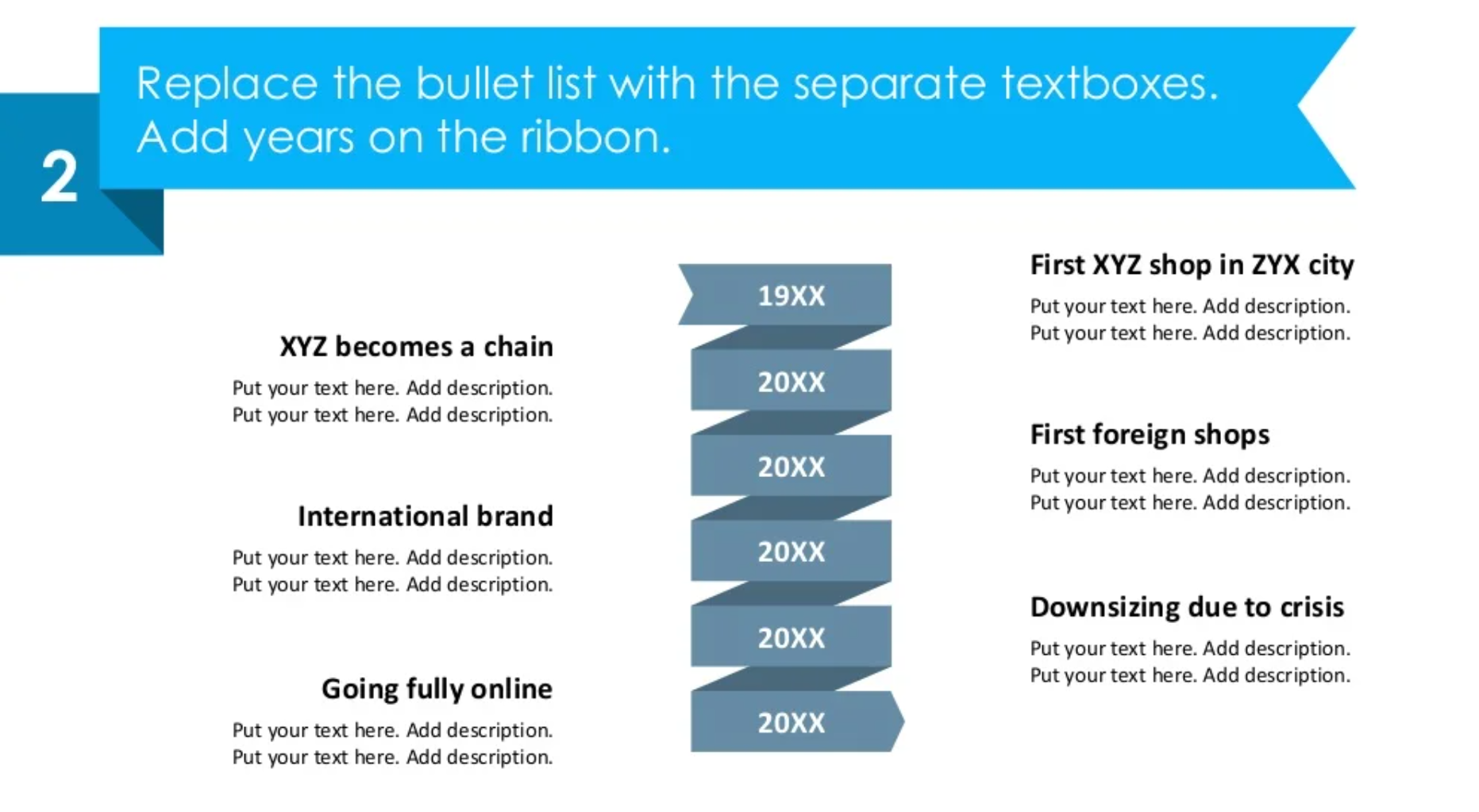 Step 3. Add joining elements
Now, you want to direct every description to the corresponding year for better readability and understanding. You can achieve this by adding joining elements, such as line vectors and dashed lines.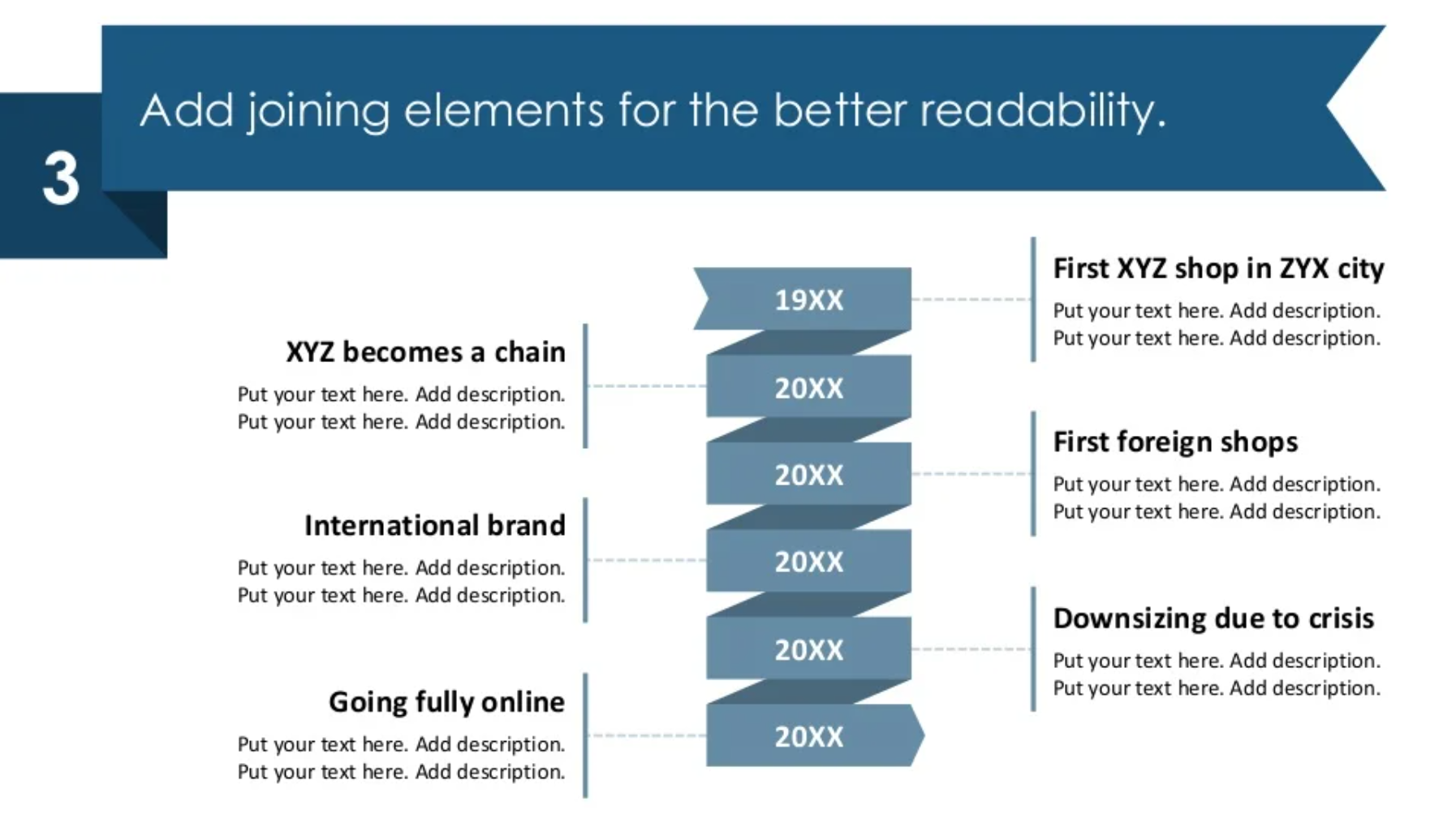 Step 4. Add icons and color for a design touch
In our opinion, colors and icons in a presentation are like putting a topcoat after fresh paint! Add some representative icons for a better association, and color-coding to break the monotony of your slide.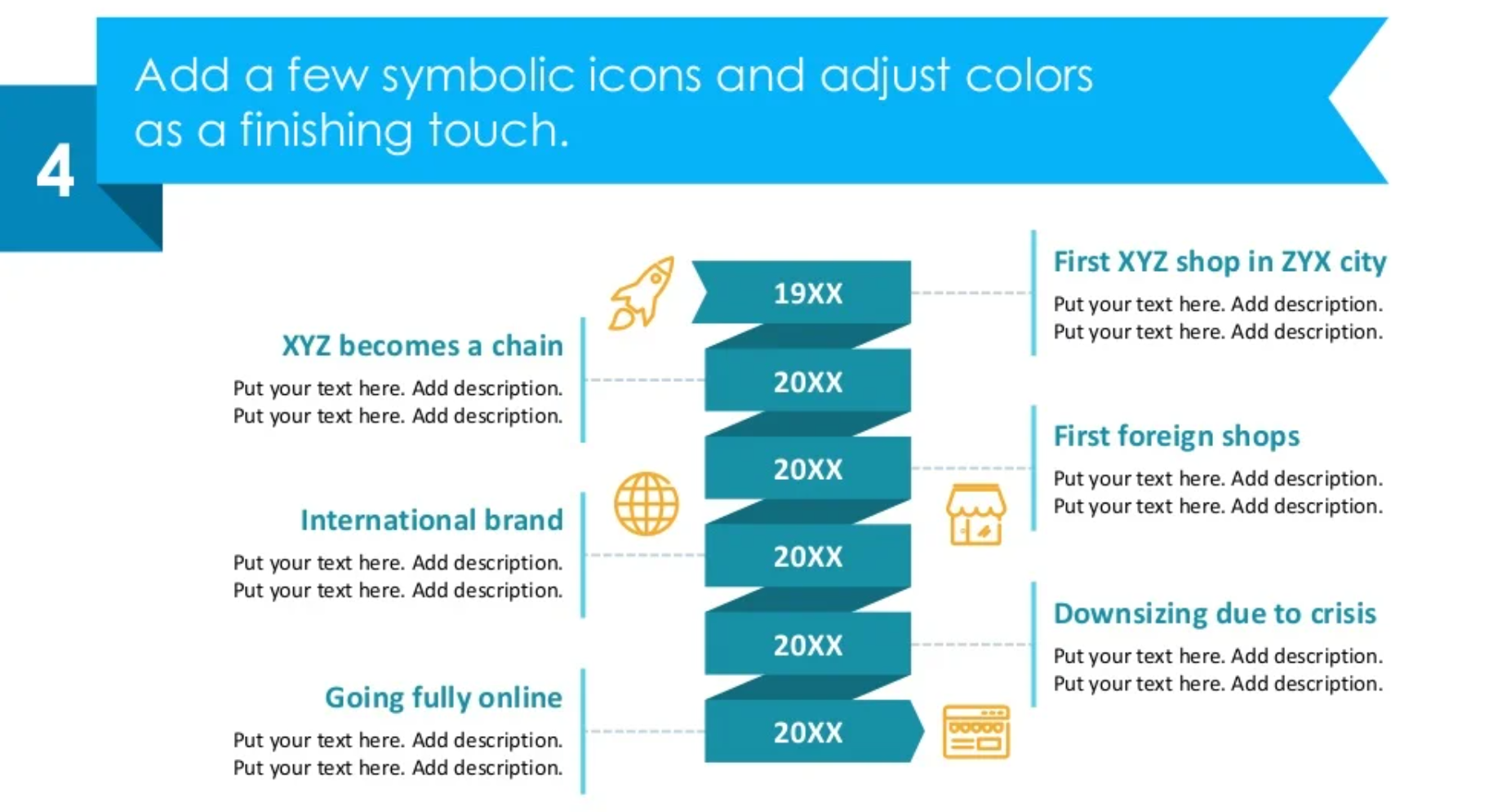 And, you're all set! Here's a YouTube tutorial that you may find useful.
If you need a starting point for creating presentations by yourself, check out this free sample with different icons and diagrams which you can adjust as you please.
Source
The slide makeover we used here, is part of the infoDiagram's Established Company History Timeline Template collection. You can find more slide ideas there.
Check this blog out to see how to present a company timeline with different diagram graphics.
Recent Posts