The net promoter score is an excellent metric to measure customer satisfaction and usually ranges from 0-10. Implementing this metric into your business will bring benefits, such as customer retention, future referrals, etc.
We have prepared for you an infographic slide, covering the net promoter score benefits, so you can present this idea to your team, and see whether you have achieved customer loyalty and satisfaction.
Keep reading to see how we turned a standard-looking slide into an engaging visual presentation.
The Net Promoter Score Slide Before the Redesign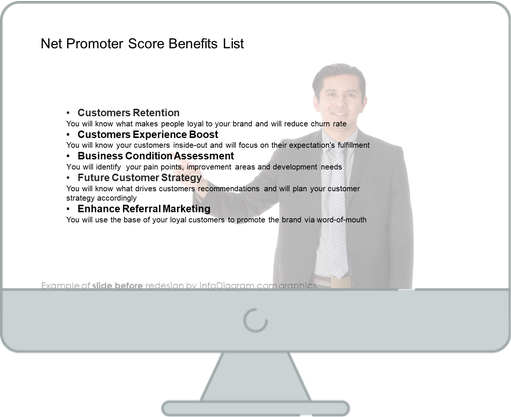 Our source slide presented above looks boring and stuffed with information. The simple bullet points, the lack of color, and the elements are making the slide look very plain.
Below is what the improved version looks like.
The Net Promoter Score Slide After the Redesign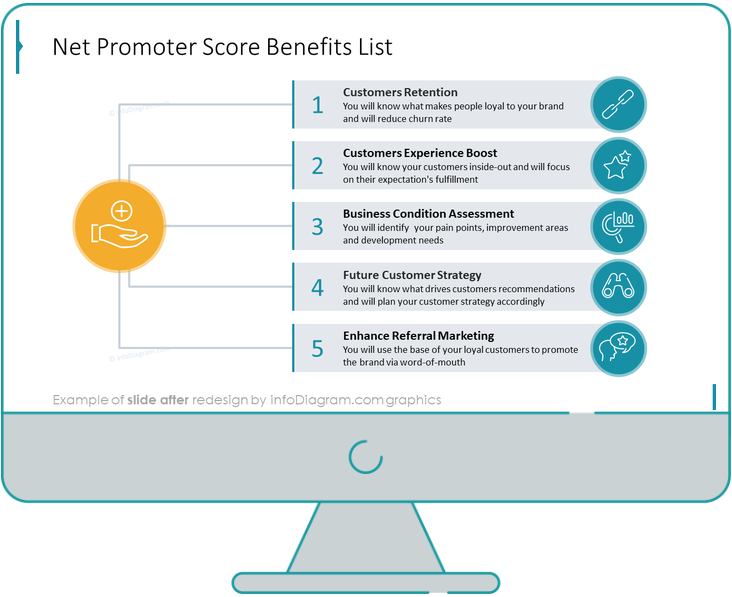 When compared, we can see that the uplifted slide looks more organized, element-rich, and clean.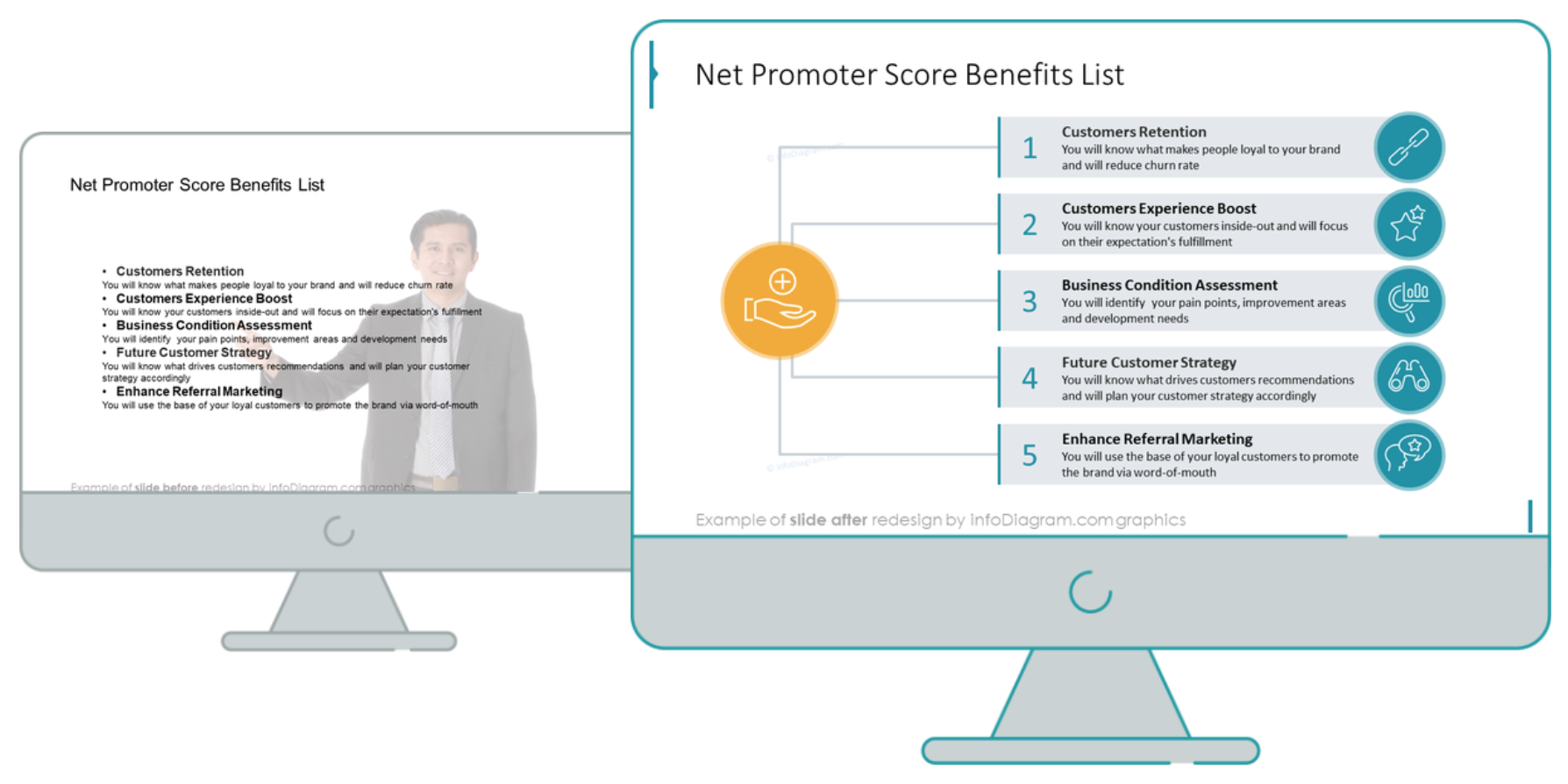 Let's discuss now the redesign process step by step.
Step 1. Divide the area into five rows and add enumeration
Firstly, add five rows by creating a rectangle for each area. Then, add enumeration to each of them.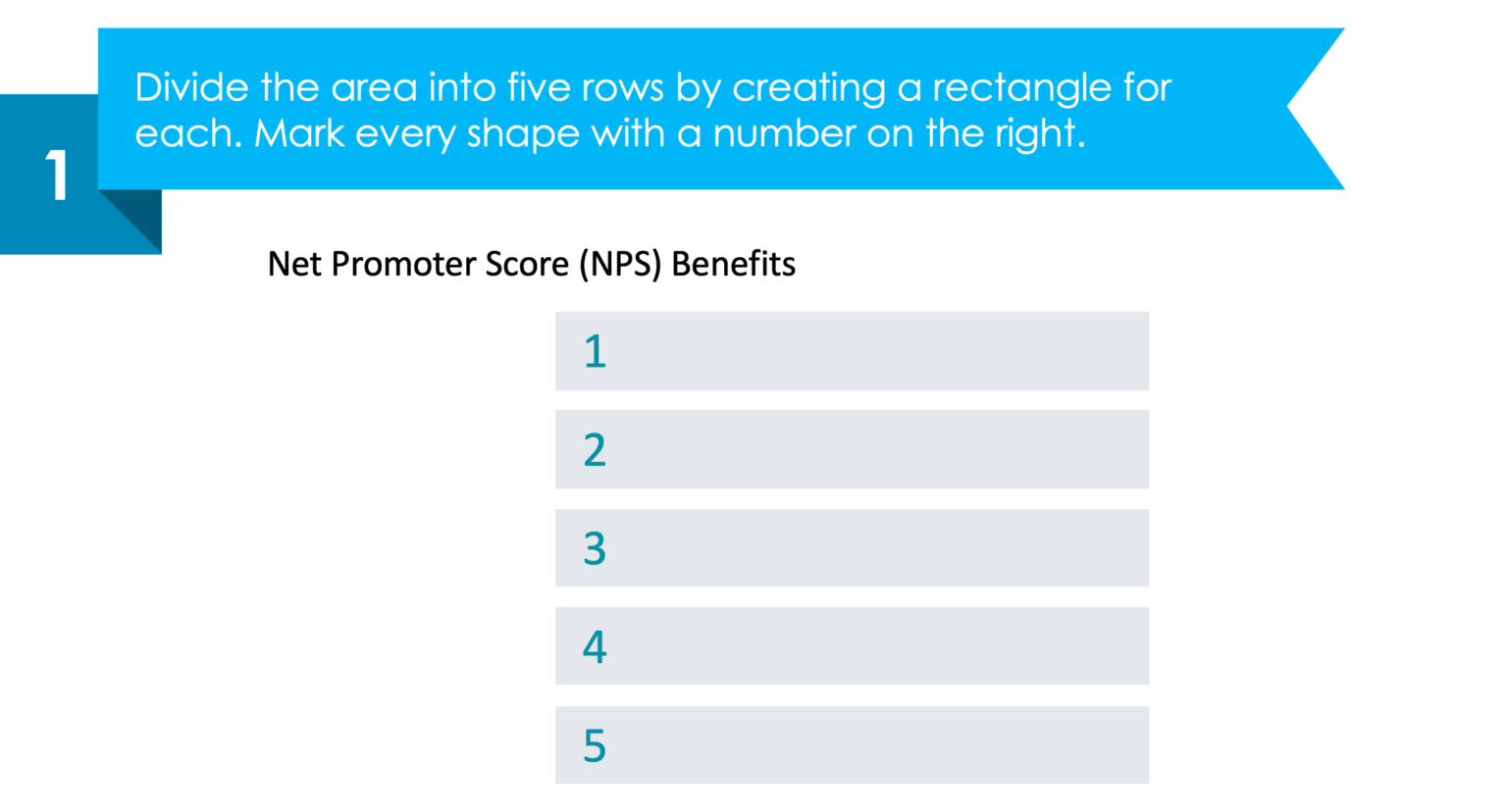 Step 2. Add text and an icon in the free space
As a next step, write every one of the net promoter score benefits in the rectangles we added previously. On the left-hand side of the slide, add a circle with an icon in the middle of the free space.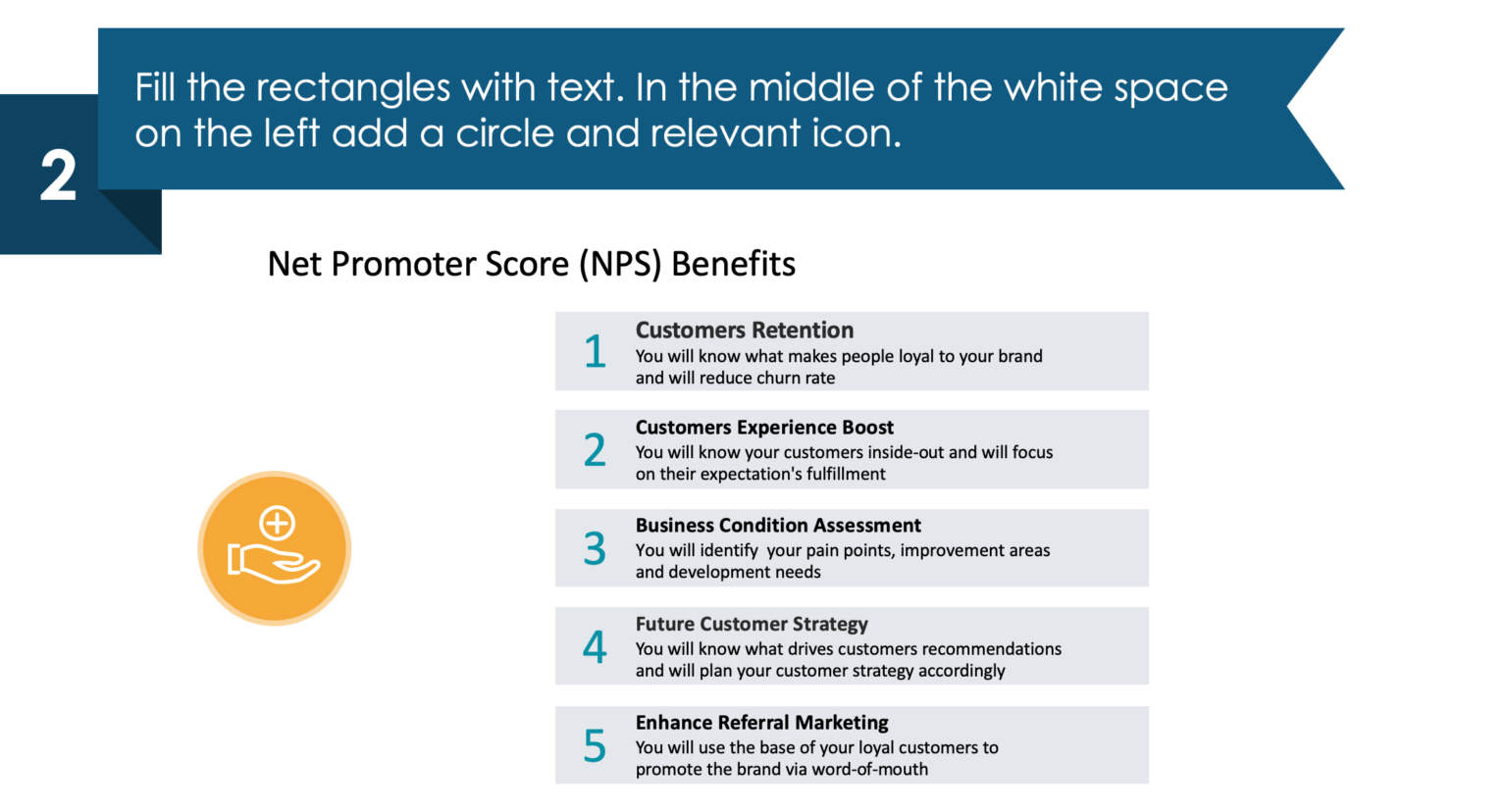 Step 3. Add a representative icon to each of the sections
Enrich your slide by simply adding circles next to each section, and fill them with associative icons just like on the picture below – chain icon for customer retention, stars icon for customer experience, boost/feedback, etc. It will give a better perspective to your audience for the discussion point.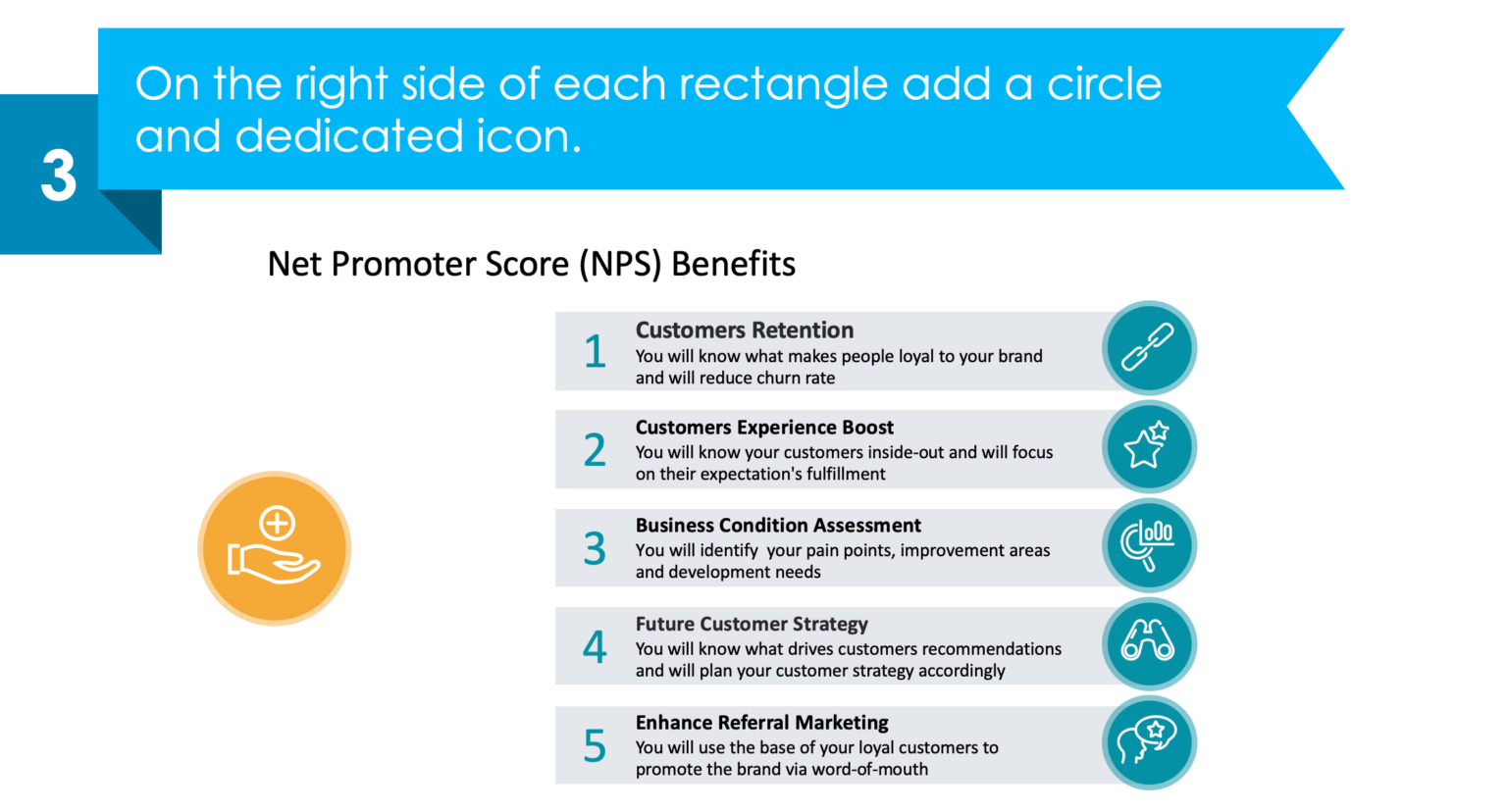 Step 4. Connect the rectangles with the main icon
As a wrap-up, add line vectors starting from each segment, ending with the main icon on the left-hand side, that we placed previously. Basically, all the segments have the same starting point – adding value to something or someone!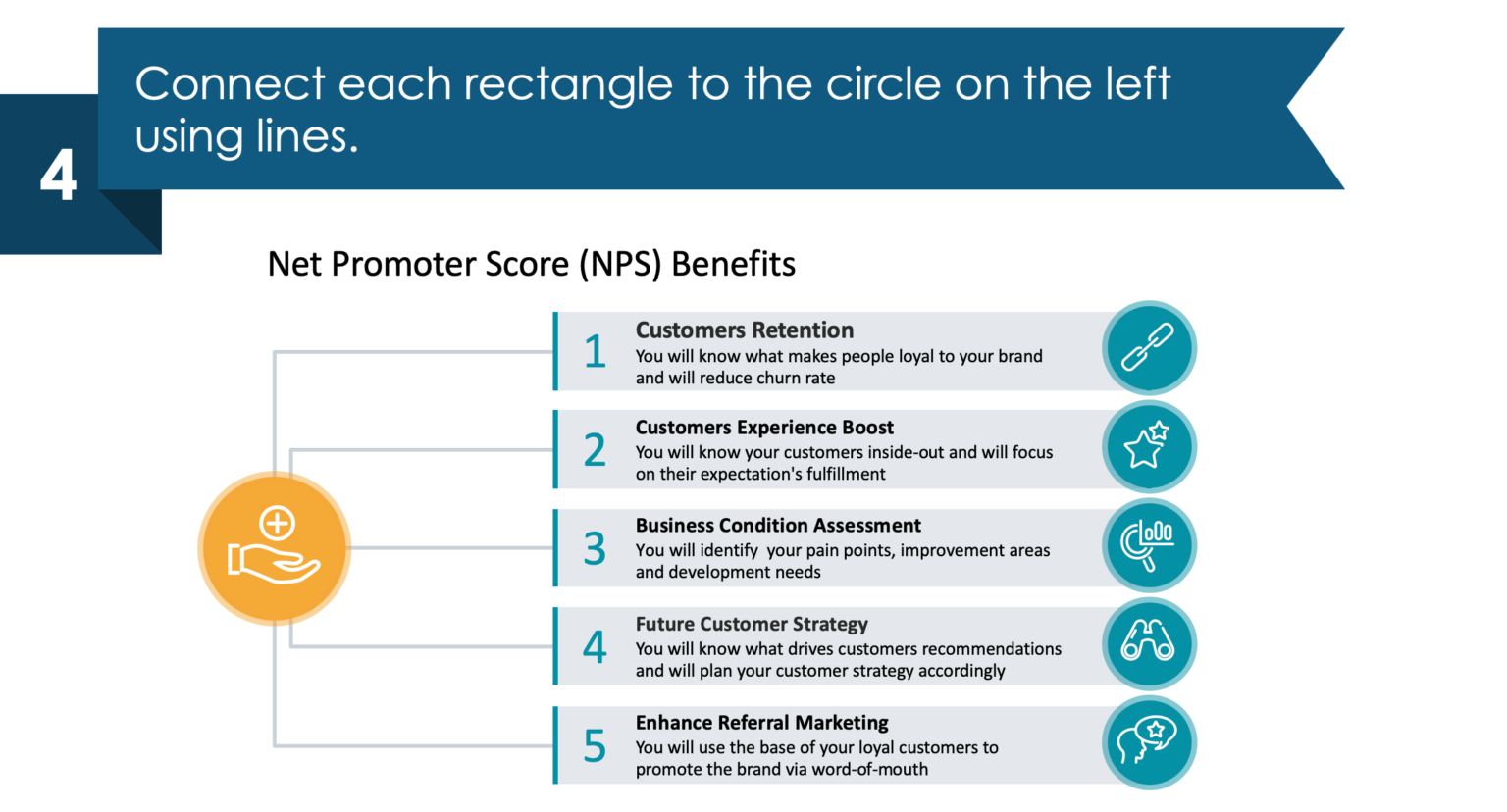 Keep in mind that a well-organized slide should always contain visuals, icons, and graphic elements. It will show also that you have put effort into your work, and that you can successfully send a clear message to your team.
Here is a YouTube guide that you might find useful as well.
We also have in the store for you a free sample with colorful diagrams and icons, so you can start creating good-looking slides by yourself!
Sources
The slide makeover we used in this blog is part of the infoDiagram's NPS Analysis Dashboard for Customer Loyalty Metrics collection. You can find there more slide ideas.
Check out this blog for more illustration tips.
Recent Posts